LS agrees on key points; Anna to break fast
New Delhi, Sat, 27 Aug 2011
NI Wire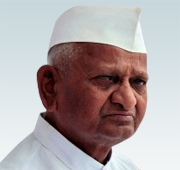 Finally, there is breakthrough in the ongoing Anna Hazare-led campaign against corruption as Lok Sabha finally passed a 'Sense of the House' resolution on his three key demands. And most importantly, Anna has announced to break his fast tomorrow morning at 10.

Soon after the Lok Sabha passed a unanimous resolution accepting three key demands of Anna Hazare, Congress leader and former Maharashtra chief minister Vilasrao Deshmukh and Member of Parliament Sandeep Dikshit met Anna at Ramlila Maidan and handed over Prime Minister's letter.

Deshmukh read PM's letter in front of the large gathering while Team Anna accepted it as a half victory stating it the victory of people, and appealed to his supporters to be peaceful in celebrations.

Earlier on the day, it was reported that the resolution will be passed by voice votes in both the houses of the Parliament. However, as per the rules, a vote on a resolution cannot be taken without a formal discussion as stated under rule 184.

Moreover, different government leaders accepted the fact that because the resolution was unanimously accepted, there was no need for a vote, even though it was demanded from the part of Team Anna.

Nevertheless, this time the Government has shown much maturity in taking the viewpoints of all before coming to the terms that it will pass a resolution on those key points of Jan Lokpal Bill.

At the end of over 8-hour long debate in both the houses on different versions of Lokpal Bill, Finance Minister Pranab Mukherjee reads:

'This house agrees 'in principle' on following issues - (1) citizen charter, (2) lower bureaucracy under Lokpal through an appropriate mechanism, and (3) establishment of Lokayukta in the states; And further resolves to forward the proceedings of the house to the Standing Committee on Law and Justice while finalising its report."

With this important yet positive development, the agreement between the Civil Society and the people's representative, many have started seeing it as a moment of triumph for democracy, where people have right to raise their voice and a government with practical attitude has to listen to the will of the people and also the core concept of democracy.