No Modi, no Mayawati, only Shiv Sena in Maharashtra: Thackeray
New Delhi, Thu, 24 Jan 2008
NI Wire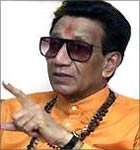 The echo of Modi's overwhelming political success in Gujarat is knocking at the door of Mumbai. His magical appeal among the people especially the Hindus is of prime concern not only for his political adversaries, but also for his political ally-Shiv Sena supremo Bal Thackeray.
However Thackeray said on Wednesday that Modi and Mayawati would have no impact in Maharashtra. His statement came after Modi addressed a mammoth rally at the Sena backyard in Mumbai.
The mega success of Gujarat chief minister Narendra Modi's rally has upset BJP's ally Shiv Sena. His principal worry is that BJP may secure more seats in the 2009 assembly elections and if it happens, the BJP would put strong claim to chief ministership if the BJP-Sena ally comes in power.
On the occasion of his 82 birthdays in an interview to Sena's organ Saamna on Wednesday, Thackeray said that the people of Maharashtra would not accept any outsider. He warned that Modi should confine himself to Gujarat and Mayawati to Uttar Pradesh.
''Leave Maharashtra to us. In Maharashtra, only the Shiv Sena pattern will work,'' he told reporters at his residence "Matoshri" in Bandra. He said Maharashtra would not go ''here and there.''
Shiv Sena chief further said, ''Modi had benefited by Godhra and the Gujarat riots. It is because of these that he came to power. People of Gujarat began to feel that he is their saviour while Muslims are scared of him.''
But the Maharashtrians are intelligent and they know well which party is beneficial for them. They would not come into trap of Modi's magic, quite prevalent in Gujarat. And then he said only the Shiv Sena pattern will work in Maharashtra.
Thackeray considers himself and many times he had shown by his deeds and statement that he is the only Hindu icon in Maharashtra and hence naturally not feeling comfortable by the thought of ceding ground to Modi in Maharashtra.
This even prompted him to speak in favour of his political adversary, NCP leader and Union Agricultural Minister Sharad Pawar as a candidate most fit to the post of prime minister.
He said further he wanted a Marathi to become prime minister, but not remaining a mere puppet of the Congress president Sonia Gandhi. NCP chief Sharad Pawar is a strong contender for the post of prime minister, but not without precondition.
"Pawar who left Congress on the issue of Sonia Gandhi's foreign origin went back to Congress-led United Progressive Alliance for a ministerial berth. I feel a man like him who has mettle and qualities is being wasted there," said Thackeray.
As against Modi's Hindutva clout that worked for him and brought Gujarat throne again consecutively for the third time into his hand, Bal Thackeray started playing his Maratha card through "son of the soil" politics. This prompted him demanding reservation for Marathi-speaking people in Mumbai apartments.
Thackeray warned the builders to reserve 50 percent of the house for Marathi manoosh (common man), otherwise, "We will launch an agitation and not allow even a single brick to be laid," he said.
"States have been divided on a linguistic basis. Modi got Gujarat, Mayawati got Uttar Pradesh. Leave Maharashtra to us. In Maharashtra, only the Shiv Sena pattern will work," he said in an interview to his political mouthpiece "Saamna".