Surajkund International Crafts Mela celebrates partner country Sri Lanka's Independence Day
New Delhi, Tue, 04 Feb 2014
NI Wire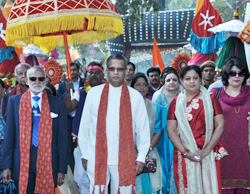 Sri Lankan Independence Day was celebrated at the 28th Surajkund International Crafts Mela being held at Surajkund, Haryana. This year Sri Lanka is the partner country of the International Crafts Mela.
H.E. Prasad Kariyawasam, High Commissioner of Sri Lanka to India, A.H.M. Fowzie, senior Minister for Urban Affairs, Minister of Parliament and veteran actress Malini Fonseca, Buddhi Keertisena, Chairman, National Crafts Council, Sri Lanka were a part of the celebrations.
Today all the guests visiting the Sri Lankan pavilion of the Mela, received a warm welcome by handing betel leaves, a custom in Sri Lanka.
The national flag of Sri Lanka was hoisted by Fowzie followed by the recitation of their national anthem.
Fowzie said, "Sri Lanka has been taking part in this Mela for last several years and now as the Partner Nation, we have a prominent presence in the Mela. This Mela is a step towards strengthening
Indo-Sri Lankan relations and goodwill has been generated between the Tourism Ministries of both the countries."
"Mela is a good platform for cultural exchange between people of both countries and soon they would organise a fair of this kind and invite Indian craftspersons and artistes to be a part of it", he added.
Sri Lankan folk dance troupes carried out performances at the Chaupal.
A Mehndi competition was also organized in which 150 students from 14 schools participated.
The celebrations for Sri Lanka Day continued till the evening at the Natyashala with exclusive performances by Sri Lankan dance troupes that included Gajaga Wannama dance (Elephant Walk), Naga Gurulu dance (Cobra and Eagle), Gini Sisila dance (Fire), Nana Vile dance (Folk Dance), Pandam Paliya (Firework dance), Peacock dance, Fishing dance and Sri Lankan Drum fusion.