Satyagraha Pre Review, story and release date
New Delhi, Thu, 22 Aug 2013
NI Wire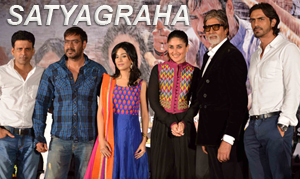 Directed by: Prakash Jha
Produced by: Prakash Jha, Ronnie Screwvala, Siddharth Roy Kapur
Written by: Anjum Rajabali, Prakash Jha, Rutvik Oza
Cast of Satyagraha: Amitabh Bachchan (as Dwarka Anand), Ajay Devgn (as Manav Raghvendra), Kareena Kapoor (as Yasmin Ahmed), Arjun Rampal (As Arjun), Manoj Bajpai (as Balram Singh), Amrita Rao (as Sumitra)
Satyagraha Release Date: 23 August 2013
"Prakash Jha films have now become a stereotype representation of Indian society. Almost all his previous films have depicted different evil aspects of society and how a common man rises against the injustice. Satyagraha is one such story".
Story:
Dwarka Anand believes in truth and principle. He believes that everything that is done by a person should be toward giving away to his country and its people. Manav Raghvendra is the friend of Dwarka's son and believes in earning money and living his life to fullest. He does not care what is right or wrong, illegal or legal, he just believes everything is fair in earning money.
Manav meets Yasmin Ahmed a journalist who also believes in showing what truly is happening in our society. He also comes across Arjun and Balram Singh.
An incident that leads to the death of the son of Dwarka changes their lives and they come together to change the very roots of the system
Pre Review:
With the looks of it, Satyagraha is inspired by the real events that took place recently. The films take on a serious issue of corruption in our government and system and how common people are being devastated by them.
Prakash Jha direction is again fantastic and he has successfully transitioned an existing problem of Indian society to his film.
Cast is already superb and Prakash has worked with them previously so the ease between them can be easily seen on the screen.
Satyagraha Trailer 1:
Satyagraha Trailer 2:
Satyagraha song - Aiyo Ji:
Satyagraha song - Ras Ke Bhare Tore Nain: