Famous quotes of Indian Freedom Fighters
New Delhi, Thu, 15 Aug 2013
NI Wire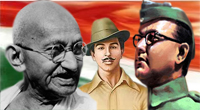 India is celebrating its 67th Independence Day on 15th Aug 2013, but it took a long time of struggle to gain the privilege of being Independent, which includes many sacrifices that can never be forgotten.
The contribution of freedom fighters like Mahatma Gandhi, Mangal Singh, Bhagat Singh, Subash Chandra Bose, Lala Lajpat Rai, Chandrashekhar Azad, Bal Gangadhar Tilak, Jawaharlal Nehru, Ram Prasad Bismil and many others role to ignite the fire of freedom among the people of India.
These leaders with their remarkable sayings provoked the Indian who were living a life of slavery of others, which helped India regain their independence after long struggle and battle.
Here are some of the famous quotes, which kept the fire of freedom struggle alive among the countrymen that ultimately made us independent on 15th Aug, 1947.
Inquilab Zindabad: Bhagat Singh
Jai Hind: Subhash Chandra Bose
Give me blood; I shall give you freedom: Subhash Chandra Bose
Do or die: Mahatma Gandhi
Bal Gangadhar Tilak: "Swaraj is my birthright and I shall have it"
Madan Mohan Malaviya: ?Satyameva Jayathe?
Aaram Haram Hai: Jawahar lal Nehru
Jai Hind: Subhash Chandra Bose
Simon Go Back: Lala Lajpat Rai
Delhi Chalo: Subhash Chandra Bose
LATEST IMAGES

MORE...
Social bookmark this page
Post comments: