China is firm to resolve border dispute with India: Yang Jiechi
Beijing, Sat, 29 Jun 2013
NI Wire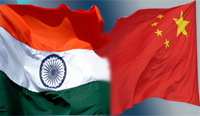 "China is ready to break new ground with India to resolve the boundary dispute," said Chinese Special Representative Yang Jiechi on Friday in the 16th round talk of border dispute solution in Beijing.
Talking to India's representative and National Security Advisor Shivshankar Menon, who visited Beijing for holding 16th round of border dispute solution talk, Yang said, "I stand ready to work with you to build on the work of our predecessors and break new ground to strive for the settlement of the China-India boundary question and to make greater progress in the China India strategic a cooperative partnership in the new period."
Jiechi, who welcomed his Indian counterpart National Security Advisor Shivshankar Menon, said the two Special Representatives have a lofty mission and heavy responsibilities.
"First of all let me warmly welcome you to come to China for the 16th round of the Special Representatives meeting on the China-India boundary question," Jiechi said.
"You and I have known each other for a long time. We are very familiar with each other and established a good working relationship and personal friendship," he said.
The Indian National Security Advisor on his part expressed his pleasure to hold talks with the newly-appointed Chinese Special Representative.
"You are an old friend and in India you are known for your various contributions you have made to the positive development of our bilateral relations," he said.
This is the first meeting of the special representatives on border talks since the new Chinese leadership took over in March and comes in the aftermath of the Chinese troop incursion in Ladakh that raised temperatures between the two neighbours.
While Menon has helmed the border talks earlier, Yang, the former foreign minister, took over as state councillor and top diplomat in March. His predecessor, Dai Bingguo, had served as the special representative since the mechanism was introduced in 2003.
The two-day talks are expected to be followed by the visit of Indian Defence Minister A.K. Antony from July 4- 7.
Premier Li, during his meeting with Indian Prime Minister Manmohan Singh last month, had said the festering boundary question is to be resolved through negotiations between their special representatives.
The June 28-29 talks is expected to focus on the recent Chinese troop intrusion in Depsang in Ladakh.
--With Agencies Inputs--