Careers after 12th: Commerce field
New Delhi, Thu, 09 May 2013
NI Wire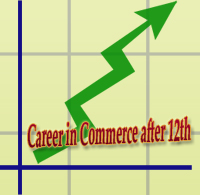 Which career should a Commerce students pursue after 12th class will be haunting all the parents and even the children. There is no need to panic, as there are many fields and opportunities available after 12th for commerce field. Student just has to decide, which field they want to go in.
Whenever you are choosing the field first see where your strengths lies in. A student thrives in the field where he/she can perform his/her best. Another important thing while choosing a field is aspiration, what you want to be in future? It's important that you don't just follow your parent's or friend's footstep as it is your future you are shaping so choose the field and college, which is perfect for you.
From full-time courses to diploma courses there are numerous possibilities for further studies after 12th in commerce field.
Following are the full time courses that can be pursued after 12th by Commerce-field students:
Chartered Accountancy (CA)
Bachelor of Business Administration (BBA)
B.B.M (Bachelor of Business Management)
B.Com (Banking and Insurance)
B.Com (Honors in Accounting and Finance)
B.A.
B.Com (Honors)
B.Com (Computers)
Fashion Designing.
Interior Designing.
Hotel Management
Tourism Management
There are various Diploma courses as well that can be pursued by commerce students after 12th:
Diploma in Retail Management
Diploma in Accounting and Finance
Diploma in Human Resources
Diploma in Banking
Diploma in Infrastructure and Construction
Diploma in Marketing
Diploma in Plastic Technology
Diploma in Entrepreneurship
Diploma in Airhostess and Flight Steward
Diploma in Hotel Management
Following are the top Institutes that provides part-time and full-time courses in various fields for Commerce students:
Institute of Chartered Accountants of India (ICAI)
Institute of Company Secretaries of India (ICSI)
Institute of Cost and Works Accountants (ICWA)
Once a student has decided which field they want to take up for further studies after commerce its time to select the right college/university/institutions.
Following are the top 10 Commerce colleges of India from where a commerce student can pursue degree of his/her choice:
St. Stephen's College, New Delhi
Shri Ram College of Commerce, New Delhi
Loyola College, New Delhi
St. Xavier's College, Kolkata
Miranda House, New Delhi
Hindu College, New Delhi
St. Joseph's College, Bangalore
Hansraj College, New Delhi
Symbiosis Society's College of Arts & Commerce, Pune
Delhi College of Arts and Commerce (DCAC), New Delhi
Students will definitely want to know what are the job opportunities in Commerce field.
Following are the jobs opportunities available for Commerce students:
Charted Accountant
Lawyer
Interior Designer
Fashion Designer
Airhostess
Human Resource
Accountant
Investment Banker
Company Secretary
Banking Sector
Hotel Sector
Tourism Sector