Career options after 12th Arts
New Delhi, Fri, 10 May 2013
Amit Kumar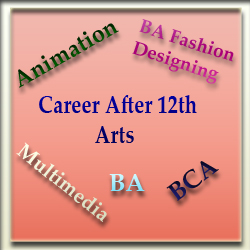 After completing 12th class in Arts stream, students usually get confused when it comes to choosing the right course for higher studies. No doubt a good percentage in class 12th exams plays a key role in molding their career, but options are always there. At present, a wide range of undergraduate courses are available in India that opens various career options after 12th for students and enable them to elect best courses for them.
Currently, there are number of degree and undergraduate programs available for Arts stream students such as Bachelors of Arts, Bachelors in Education, English, Economics and Bachelors in Political Science etc. All undergraduate programs are equally good and reveal lots of career opportunities for students after completing it.
In India, number of top colleges are there offering such degree program in Arts with numerous carrier opportunities. For example, after completing B.A. in Economics one can go for teaching, law or journalism. But if they don't think that the teaching or law suits them, then there are several more honorable jobs and opportunities available in the current business market that helps them earning good amount of money. These jobs can be either of a manager or financial advisor. They can also work as an economist or a business analyst in Govt. or private sector organisations.
Similarly, B.A. in English, B.A. in Pol Science and Bachelors in Mass Communications open doors in ever growing media sector. There are several other courses offered by various institutes in India like Bachelor in Fashion Design, which is on high trend among the students infatuated towards the glamour world. BA in fashion designing is quite promising these days.
So, just analyse your skills, potential and interest area and choose the best course for you after 12th in Arts.
Courses in Arts after 12th
Bachelor of Arts
BA Education
BA English
BA History
BA Economics
BA Political Science
B.A (Honours in Sociology)
Bachelor of Journalism & Mass Communication (BJMC)
Bachelor in Fashion Design
Advance Diploma in Animation
Advance Diploma in Fashion Designing
Advance Diploma in Interior Designing
Advanced Diploma in Multimedia
Advanced Editing
Air Hostess
Anchoring
Animation Film Making
Animation Master
Artistic-Basic Jewellery Design Program
B. A. Programme with Functional Hindi
B. Sc Degree in Fashion, Interior and Textile Design