What President Xi Jinping and Premier Li Keqiang have in mind for China?
Beijing, Sun, 17 Mar 2013
NI Wire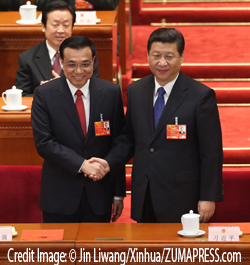 While Chinese President Xi Jinping has pledged to resolutely fight against corruption and work for public good, Chinese Premier Li Keqiang said he is willing to accept supervision from the society and media on clean governance.
Both Jinping and Keqiang were addressing a gathering of nearly 3,000 legislators on country's annual legislative session held in Beijing on Sunday.
Newly-elected president said, "We must resolutely reject formalism, bureaucratism, hedonism and extravagance, and resolutely fight against corruption and other misconduct in all manifestations".
"All members of the Communist Party of China (CPC), especially the leading cadres of the party, must consolidate their ideal and conviction, always put the people above everything else, and exalt the party's glorious tradition and fine conduct."
"We must always preserve the political integrity of communists and unswervingly strive for the cause of the party and the people," Xi added.
He stressed that the CPC was the core force in the great cause of leading and uniting the people of all ethnic groups to build socialism with Chinese characteristics.
"We are shouldering the heavy task bestowed by the history and going through the test of the times.
"We must uphold the principle that the party was founded for the public good and that it exercises state power for the people, supervise our own conduct and run the party with strict discipline," the Chinese president said.
"We must always be modest and prudent, defy difficulties and work hard, bury ourselves in work and forge ahead with determination so as to achieve new, greater victory in completing the building of a moderately prosperous society in all respects," he said.
Xi, also general secretary of the CPC Central Committee, was elected president and chairman of the central military commission on Thursday.
Li Keqiang was talking to reporters after the annual session of China's legislature concluded. He said, "If one takes public office, he or she should cut off any expectation of getting rich".
"Pursuing government office and making money have been two separate lanes since ancient times," he said.
"Only by being upright himself, can he then ask others to be upright," the new premier quoted a Chinese adage as saying.
"We are willing to accept supervision from the whole society and media," he said.
Urging a battle against corruption, which he described as "incompatible to reputation of the government, like fire to water", Li said a sound mechanism would be established to ensure officials dare not and were unable to practice corruption.
And those corrupt would be punished by the law, he added.
Li said it was even more important to make sure power should be exercised in an open and transparent fashion "so that the people can supervise government effectively".
Promising to win people's trust and practicing frugality in government spending, he said: "Within my tenure, the government will not use public coffer to construct new offices, halls or guest houses for government use."
The premier also said that his government proposed to reduce the number of government employees, spending on official hospitality, overseas trips for official purposes and purchases of official vehicles.
Saying that the central government would set an example and governments at all levels must follow suit, he said: "If the people are to live a good life, their government must be put on a tight budget."
(with inputs from IANS)