Watch Salman Khan in Koffee with Karan season 4 promo
New Delhi, Mon, 25 Nov 2013
NI Wire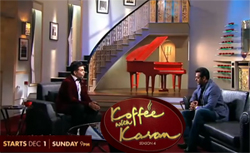 It took 9 years for Karan Johar to bring Salman Khan on his famous talk-show Koffee with Karan. Salman will be the first guest of Season 4 of Koffee with Karan.
This will be the first time Salman will be in such talk show though he has been host himself, he has never been interviewed.
Once Karan being close to Shahrukh Khan had been cold to Salman but now he says that he is friend with both of them.
It will be interesting to see how Salman faces the controversial question Karan is known to ask.
Karan Johar says, "It has taken me many years to bring you on this couch, why have you resisted coming"?
To which Salman Khan replies, "The kind of question that you ask they get too personal and I feel shy and I get very uncomfortable".
Next we see Karan asking his rapid fire round questions to Salman- about how he handles exs, what if he woke up as Katrina Kaif, etc and Salman finally saying "kuch bhi bolta hai yaar…ye aadmi"
Season 4 of Koffee with Karan will start on 1 December 2013 at 9pm.
Salman Khan in Koffee with Karan season 4: