ISRO launches its 100th Mission; PM calls it a milestone and inspiration to nation
Chennai/New Delhi, Sun, 09 Sep 2012
NI Wire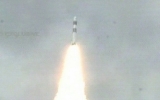 The Indian Space Research Organisation (ISRO) Sunday morning created a history by launching its 100th indigenous mission that was eye witnessed by Prime Minister Manmohan Singh along with Minister in Prime Minister Office, V Narayanasamy.
ISRO on Sunday morning from its Sriharikota spaceport that is only 80 k.m. far from Chennai, launched two foreign satellites - SPOT 6, a French earth observation satellite weighing 712 kg and 15 kg micro satellite Proiteres of Japan through Polar Satellite Launch Vehicle (PSLV) system.
Indian rocket Polar Satellite Launch Vehicle-C21 (PSLV-C21) that was standing around 44 metres tall and weighing around 230 tonne, with a one-way ticket costing Rs.75-crore carried the foreign satellites.
The blast off the rocket took place at 09:51 a.m. on September 09, 2012.
The PSLV-C21 rocket is expected to deliver SPOT 6 and Proiteres into a 655 km polar orbit and ISRO officials are hoping that the agency's 100th space mission will turn out to be a grand success.
Congratulating to ISRO scientists Prime Minister who was watching the launch with Narayanasamy and agency Scientists from ISRO centre, said, "ISRO will scale greater heights, The ISRO community has been a source of inspiration to the country."
SPOT-6 is the biggest commercial lift so far since India forayed into the money-spinning commercial satellite launch services after 350kg Agile of Italy was put in orbit in 2007 by PSLV. Twelve other foreign commercial satellites were less than 300 kg.
France's five earlier SPOT satellites were launched by European Araine rocket. POT-6, built by ASTRIUM SAS,a subsidiary of EADS, France, is an earth observation satellite, while PROITERES, developed by students and faculty of Osaka Institute of Technology, will study Kansai region of Japanese island of Honshu.
Remote sensing satellites send back pictures and other data. The SPOT and Indian remote sensing satellites are the two leading earth observation satellite series.
Interestingly SPOT 6 is the heaviest foreign satellite to be carried by a PSLV rocket since 1999 when ISRO started launching satellites owned by foreign agencies.
ISRO has been carrying foreign satellites since 1999 initially as an add-on luggage to its own satellite.
It was with Agile, a 350 kg Italian satellite, that ISRO started flying a full commercial rocket. Till date ISRO has launched 27 foreign satellites successfully and the Sunday mission would take the tally to 29.
The successful launch of SPOT 6 would make ISRO's PSLV rocket a strong contender to carry SPOT 7 planned by French company Astrium SAS soon.
According to ISRO, the satellite launch agreement between Antrix and Astrium is part of the long-term agreement signed between the two agencies in September 2008.
The space agency has also jointly built two heavy satellites - 3,453 kg W2M and 2,541 kg Hylas - for the French agency.
India has the largest constellation of remote sensing satellites in the world providing imagery in a variety of spatial resolutions, from more than a metre ranging up to 500 metres, and is a major player in vending such data in the global market.
With 12 remote sensing/earth observation satellites orbiting in the space, India is a world leader in the remote sensing data market. The 12 satellites are TES, Resourcesat 1, Cartosat 1, 2, 2A and 2B, IMS 1, Risat-2, Oceansat 2, Resourcesat-2, Megha-Tropiques and Risat-1.
--With Agencies Inputs--
LATEST IMAGES

MORE...
Social bookmark this page
Post comments: