Krishna to hold meeting with Pak Foreign Minister Khar today
Islamabad, Sat, 08 Sep 2012
NI Wire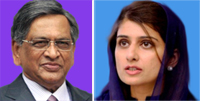 Indian External Affairs Minister S M Krishna who is on his second time three-day official visit to Pakistan will hold a bilateral delegation-level talks with his Pakistani counterpart Hina Rabbani Khar in Islamabad today.
This talk is very important to both nations as there are many issues set to be discussed in high level ministerial and delegates meeting, said an official to media.
Among those, a bilateral visa agreement between the two countries is likely to be inked today that will ease the problems of millions Indians and Pakistanis and this step would improve the relations between the two sides.
Pakistan Interior Minister Rehman Malik had earlier on Friday welcomed the signing of the proposed visa agreement.
"Those who are 65, our elders, will enjoy it more, because they will not have to get the visa. They can go and see their sons, grandchildren, and of course, their old friends," he said.
The meeting between the two Foreign Ministers comes a day after the Foreign Secretaries of India and Pakistan met in Islamabad to discuss all aspects of the resumed dialogue and fine tune the agenda for the ministerial bilateral talks.
Foreign Secretaries Ranjan Mathai and Jalil Abbas Jilani took stock of the progress made in bilateral ties and also charted the course to be taken for the next round of talks between the two nuclear-armed neighbours.
Krishna had yesterday said that he had come to Pakistan with a message of goodwill from the government and people of India.
"I am very happy to visit Islamabad at the invitation of the Foreign Minister of Pakistan and my esteemed colleague Hina Rabbani Khar. I bring a message of goodwill from India for the people of Pakistan," Krishna said soon after his arrival.
"I wish to reiterate the desire of India to see a stable and prosperous Pakistan living in peace with itself and the world. That would be in the best interest of everyone," he added.
Asserting that the leadership of India and Pakistan have mandated building of trust and confidence between our two countries, Krishna said: "We are committed to finding solutions of all issues that have beset our relationship through peaceful bilateral dialogue, while we look to the future where our two countries are able to live together in an atmosphere of friendliness and all-round cooperation, free from terror and violence."
"My endeavour during this visit will be to promote the objectives that I have just mentioned," he added.
Earlier Krishna had visited to Pakistan in 2010.
--With ANI Inputs--
LATEST IMAGES

MORE...
Social bookmark this page
Post comments: