People can't tolerate anti people policies of government: Gupta
New Delhi, Wed, 26 Sep 2012
NI Wire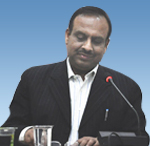 BJP Delhi Pradesh President Vijender Gupta has said that Delhi Government cannot demoralise him by entangling him litigations. As the Pradesh President, it is his political, social and legal responsibility to oppose every anti-people step of Government. The BJP's fight against anti people policies of Delhi Government will continue till Delhi Government withdraws its anti people decisions.
Gupta told that with the connivance of power companies, Delhi Government imposed a heavy burden on the people in the form of power tariff hike. The Government could prevent power tariff hike because all the three companies were earning profit of thousands of crores.
This can be confirmed by the audit of the accounts of these companies by CAG. The Power companies had asked for maximum 22 percent increase but the Government allowed 34 percent hike which is injustice to the 2 crore people of Delhi. BJP will continue its fight against it.
It may be mentioned that the former Chairman of DERC Brijendra Singh had informed Delhi Government on 3rd May, 2010 that all the three power companies have surplus of 3577 crore rupees hence the power companies should cut power tariff by 22 percent but the Chief Minister of Delhi wrote a letter to DERC on 4th May, 2010 stopping the cut in power hike because at that time power department was under the Chief Minister.
This movement was staged in entire Delhi. Public was informed through media that Delhi Government and the power companies have together imposed a big burden on the people of Delhi in the form of power tariff hike. Delhi Government could have prevented the DERC from increasing power tariff. After that power companies have hiked power tariff by 70 percent and all the RWAs and the people of Delhi besides BJP have strongly opposed it.
The common man is not ready to tolerate such increase in the power tariff because they are not capable of paying so much. Gupta has demanded Delhi Government and DERC that it should immediately withdraw the present tariff so that the people's right to life may not be in danger.
LATEST IMAGES

MORE...
Social bookmark this page
Post comments: