Manmohan Singh turns 80: Journey of an Intelligent but Docile Man
New Delhi, Wed, 26 Sep 2012
NI Wire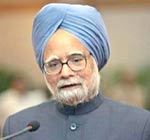 13th Prime Minister of India, Dr. Manmohan Singh has turned 80 today. However, like previous times he will be spending this day working.
PM will give away the Shanti Swarup Bhatnagar awards and Council for Scientific and Industrial Research (CSIR) awards.
One of India"s most unlikely Prime Ministers, Manmohan Singh's life journey has been filled with ups and downs. As a great economist he brought much reforms and good to country but has also been associated to many failures.
Manmohan was born in 1932 in Gah village in Pakistan. During partition his family shifted to India. He obtained his doctorate in Economics from Oxford and worked for the United Nations from 1966 to 1969. He was also Chief Economic Advisor (1972-76), Reserve Bank Governor (1982-85) and Planning Commission head (1985-87).
Under P.V. Narsimha Rao, he as a Finance Minister freed India from the License Raj, which was responsible for slow economic growth in 90s. He opened India's socialist economy to a capitalist one and brought liberalization to India.
On 22 May 2004 he was appointed Prime Minister of India and was re-elected in 2009. His tenure as PM saw much criticism mostly because of his nature of looking the other way while his minister carried out plunders and because of his inability to take strong decisions by himself. Not to forget various monumental corruption scandals that happened under his watch.
Manmohan was a surprise candidate for PM and mostly worked as a puppet of Sonia Gandhi and Congress party.
Indo-US civilian nuclear agreement for which he had to plead both Congress and Left parties was the major deal his tenure saw. NREGA (National Rural Employment Guarantee) Act and RTI (Right to Information) Act were the other important act passed under his watch.
Though his 1st tenure as PM was smooth, during his 2nd term he and his government were accused of being a part of many scandals and carrying out corruption. Time Magazine even remarked Manmohan as Underachiever.
Personally he has never being questioned and has been seen with respect by leaders of opposition and world over. He drives a Maruti 800 and has a bank deposit of nearly 3.2 crore. But his inability to utilize properly the PM post like he did when he was Finance minister because of his weak political history was the main reason for his criticism.
Recently PM has brought new economic measures in order to revive the dipping economy of India. It includes allowing foreign direct investment in multi-brand retail, raising diesel price and limiting cooking gas cylinders.
Though this measures are highly criticized by opposition he reached out to people in a nationally televised address last Friday and said "Opposition to FDI in retail sector is like the situation in 1991 when the government opened the country to foreign investment in manufacturing. Opposition tactics had failed then and will fail now".
On the whole, he couldn't completely utilize the intelligence he possessed and was curtailed of his power even when he holds highest office.
LATEST IMAGES

MORE...
Social bookmark this page
Post comments: