FDI in retails means way of downfall of the country: Gadkari
New Delhi, Tue, 25 Sep 2012
NI Wire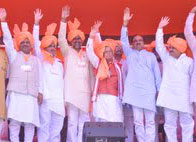 BJP National President Nitin Gadkari has said that when BJP will come to power, it will provide insurance cover, education, hospital facilities, residential accommodation and wages sufficient for living to the 43 crore unorganized workers of India. The NDA Government had taken necessary steps to provide security cover, hospital facilities, residential accommodation etc. to these workers. He was addressing the workers rally organized by Bharatiya Janata Mazdoor Mahasangh of BJP at Ramlila Maidan in Delhi.
On the occasion Gadkari said that this Government is anti poor, anti workers and farmers. The people of India will dislodge this cruel and looter Government. He raised a question to Manmohan Singh & Sonia Gandhi that what steps they have taken for the welfare of the workers of unorganized sector About the partners of UPA Government, he told that these people are friends in Delhi, but enemies in Lucknow. They are not trustworthy. By allowing FDI in retail sectors, Manmohan Government has opened the way of downfall of the country. Capital will go out of India and crores of youth will be rendered unemployed. The companies shall exploit the farmers.
Former President of BJP Dr. Murli Manohar Joshi said that the permission for FDI in retail sector will ruin India. He told that by allowing FDI the situation prevailing in 1717 will arise in India. India will once again become slave. It will also create unemployment in the country. Labourers, farmers, poor people shall starve. We should never allow the foreign companies to enter into India.
Vijender Gupta told that the condition of 43 crore workers of unorganized sector for which the Government claims to be proud, is like animals even after 63 years of independence. They build the houses for every one, but live without home for their entire life. The image of India has improved with the help of their labour, but they have been exploited the most during Congress rule. He assured the workers participating in the rally that BJP has undertaken for the welfare of 43 crore workers. It will fulfill its resolve in every condition.
LATEST IMAGES

MORE...
Social bookmark this page
Post comments: