Anti-Japan protest continues in China
Beijing, Mon, 17 Sep 2012
NI Wire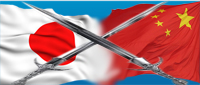 The anti-Japan protest continues in China over the media reports that stated that Japan have purchased three out of five disputed Diaoyu islands which China claims to own.
After the reports, the peoples in China have begun to boycott the Japanese products and items and many outsets of Japanese companies have begun to shut down in China.
The Diaoyu (or Senkaku, in Japanese) Islands have long been a disputed territory between the two countries. Japan claims it has occupied the islands since 1895, while China maintains the islands were recognized as Chinese as early as 1783.
Taiwan and Beijing believe Japan is occupying the islands illegally, while Tokyo believes its rivals only became concerned over the issue in the 1970s following discovery of valuable minerals there.
Police in Guangzhou, capital of Guangdong province, made the announcement Monday on its official account of Sina Weibo, a popular Twitter-like microblogging service, Xinhua reported.
RIA Novosti reported that more than ten people were arrested in China Monday according to local media reports, after police used tear gas and water cannons to break up anti-Japanese riots which began late last week over Japan's nationalization of the disputed Diaoyu Islands.
On the same day, about a thousand Chinese fishing boats were dispatched to the area in what appeared to follow up on Beijing's promise to send both fisherman and patrol boats to the East China Sea in an attempt to refute Japan's purchase earlier in the week of three of the five Diaoyu Islands, to which both Beijing and Tokyo have laid claim.
On Saturday, rioters wielding Chinese flags broke through a ring of police officers at the Japanese Embassy in Beijing, according to Chinese television, hurling eggs, plastic bottles and other debris at the building in protest.
Protests against Tokyo's move have continued at various locations, including at Japanese missions, car dealerships and restaurants.
--With IANS Inputs--
LATEST IMAGES

MORE...
Social bookmark this page
Post comments: