Govt revises GDP forecast to 8.2%; announces 12th Five Year plan
New Delhi, Sat, 15 Sep 2012
NI Wire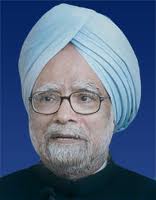 Prime Minister Dr. Manmohan Singh Saturday announced the 12th Five Year plan here at a Planning Commission meeting where he revised the Gross Domestic Product (GDP) Growth Rate to 8.2% from earlier forecast of 9% stating that their objective is not just growth of GDP, but the inclusive and sustainable growth of society including Dalits, tribals and backward classes.
Announcing the 12th Five Year Plan, Prime Minister Manmohan Singh said, "The economy has gained many strengths. Our immediate priority must be to orchestrate a rebound in the second half of the current year. We should then try to accelerate growth to reach around 9 percent by the end of the Plan period."
"This will yield a target growth rate of around 8.2 percent over the Twelfth Plan. This is lower than the 9 percent originally projected, but some downward revision is realistic given the state of the world," he added.
"As the Plan document points out, our objective is not just growth of GDP, but growth that is inclusive and also sustainable. The SC/STs, OBCs, and the minorities must all participate fully in the growth process. The Plan has many elements designed to ensure this," PM said.
The Prime Minister said that poverty declined twice as fast between 2004-05 and 2009-10 than it did in the previous 10 years.
He emphasised the need of private investment and development of infrastructure to reach the desired growth.
Depicting the 12th Five year plan, Singh said, " Turning to the longer term policy agenda, the Plan can be seen as consisting of three broad components?..One is the set of Government programmes aimed at achieving specific sectoral objectives. The second component relates to macro-economic balance. The third key component of the Plan is the set of policies which can improve performance in individual sectors."
He targeted to achieve the growth rate of 4% in agricultural sector while stressed on to accelerate the growth rate in industrial sector so that more jobs can be created.
He also cited some economic problems like energy scarcity, water shortage and urbanisation problems.
The Prime Minister defended government's decision to hike diesel prices by Rs.5 per ltr saying the increase is a move in right direction.
PM outlined few achivements during 11th Plan.
"Poverty declined twice as fast between 2004-05 and 2009-10 than it did in the previous ten years. Agriculture grew at 3.3% per year in the Eleventh Plan, much faster than the 2.4% observed in the Tenth Plan", he said.
--With Agencies Inputs--
LATEST IMAGES

MORE...
Social bookmark this page
Post comments: