Kiran Walia appeals society to check violence against women
New Delhi, Wed, 08 Aug 2012
NI Wire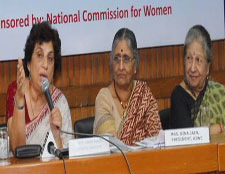 The women are subjected to harassment, humiliation and are often made victim of the violence due to supremacy of male in the Indian society and it is very difficult to convince the male dominated society to control violence against women. This was stated by Minister of Social Welfare, Women and Child Development, Prof. Kiran Walia while she was speaking as Chief Guest in a seminar on "Violence against women- Whose concern" orgainsed by the All India Womens Conference at India International Centre.
On the occasion Prof. Walia said that law is an interim relief but it is not a means for ending this evil of violence against women. She said that laws are instruments to safeguard but not the ultimate solution of the evil.
The only solution of the problem is to sensitize people towards this evil. She said that only youth can be helpful in curbing this menace as they can check the male relations to stop the violence against the women in their families and the society. This is happening because of the narrow feeling of the male dominated society with a picture in their mind that women themselves cannot take decisions, they can not do the work they desire, they can not think themselves and they can not do any work at their own since they have not granted them freedom to do so.
The Police Stations and the Courts are full of complaints and petitions of domestic violence and violence against women. Women alleged that most of their male counterparts/ life partners inflict injuries on them after consuming wine or alcoholic material regularly. Not only this, some times it is seen that in the fit of anger the male have defaced the women, have broken their fingers, hands and knees in rage and they are not in their senses while doing so as to what they are doing.
Prof. Walia informed the delegates in the Conference that Delhi Govt. has launched a number of schemes and programmes for the empowerment of women. Detailing the programme, Prof. Walia said that Govt. has launched a number of drives and campaigns against alcoholism and substance abuse and have informed the masses about the ill effect of the alcoholism and drug abuse.
LATEST IMAGES

MORE...
Social bookmark this page
Post comments: