Pak SC issues show-cause notice to PM Parvez Ashraf
Islamabad, Wed, 08 Aug 2012
NI Wire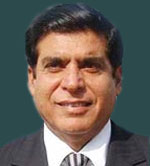 On the line of former Pak Prime Minister Yousuf Raja Gillani, Pak Supreme Court on Wednesday issued a show-cause notice to Prime Minister Raja Pervez Ashraf for failing to implement its order to write to the Swiss authorities to reopen corruption cases against President Asif Ali Zardari.
Earlier, Parvez Ashraf's predecessor Gillani had also not followed the instructions of the apex court and after issuing several show cause notices, the apex court disqualified him from the post of Prime Minisater while pronouncing the verdict against him in the charges of 'contempt of court', which SC had slapped on him.
Raja Parvez Ashraf, who is loyal to Gillani, seems to follow his predecessor, as per Pak political experts believe.
According to reports, the apex court summoned Ashraf before adjourning the hearing of the NRO implementation case to Aug 27.
The order said it was unfortunate that the prime minister had failed to implement the court's directives.
A five-judge special bench of the apex court, headed by Justice Asif Saeed Khosa, heard the case Wednesday.
Attorney General Irfan Qadir said the government was taking serious steps to resolve the issue. He said more time was required.
The court had July 25 given Ashraf time up to Aug 8 to write to Swiss authorities to reopen corruption cases against Zardari.
Accused of graft, Zardari was granted amnesty under the National Reconciliation Ordinance (NRO) in 2007 by then president Pervez Musharraf to facilitate his return home from exile, and primarily that of his wife, former prime minister Benazir Bhutto.
Zardari and Bhutto were suspected of using Swiss accounts to launder about $12 million in alleged bribes paid by companies seeking customs inspection contracts in the 1990s.
The NRO that granted immunity to politicians and bureaucrats in corruption cases was struck down by the Supreme Court as void in 2009.
The apex court in January ordered Gilani to write a letter to the Swiss authorities to reopen cases against Zardari.
Gilani was convicted April 26 of contempt of court, and was disqualified as prime minister as well as parliament member June 19.
--With IANS Inputs--
LATEST IMAGES

MORE...
Social bookmark this page
Post comments: