Team Anna dissolves: Anna Hazare
New Delhi, Mon, 06 Aug 2012
NI Wire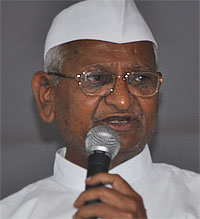 Eminent social activist and anti-corruption crusader Anna Hazare today said in his blog that he is dissolving the core committee of Jan Lokpal and since now, no work will be done on the name of 'Team Anna'.
Describing the reason, Anna Hazare in his blog (Hindi) wrote, "We have formed Team Anna for Jan lokpal Bill but government is not intended to do so. We are agitating and fasting since last one and half years, and no result came out. So there is no mean to retain Team Anna."
"So we have decided to dissolve Team Anna and since now, no work will be done under this name," Anna Hazare wrote in his blog.
"As we have asked to provide political alternative and we asked people to give their feedback, now after getting it, we have decided to organize a political party, which forming process will be start later," he further said in his blog.
As it is known that Anna Hazare and his allies on July 30 ended fast indefinite fast against corruption when government seemed reluctant to talk with them.
On the request of 23 renowned personalities and requests of common men, as Anna Hazare and his team had claimed, decided to end fast and provide political alternative so that it can reform political scenario and end corruption from system.
LATEST IMAGES

MORE...
Social bookmark this page
Post comments: