Wine could save older women from osteoporosis
New Delhi, Sat, 04 Aug 2012
NI Wire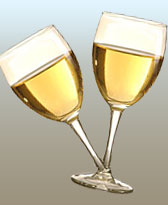 The older women who are suffering from osteoporosis or thinning of bones could get benefitted from small doses of wine every day. A study has found that one or two glasses of are as effective as medicines to protect older women from these problems.
Consumption of moderate amount of alcohol on regular basis after menopause helps to maintain bone strength, the Daily Mail writes citing the study by the International Scientific Forum on Alcohol Research.
The experts also observed that keeping away from alcohol puts on at a higher risk of developing osteoporosis.
Researchers from US University of Oregon conducted this study on 40 healthy post-menopausal women aged around 56.
A large number of post-menopausal women around the world receive drugs called bisphosphonates in order to fight this condition.
As per findings of the study published in the journal Menopause, researchers at the university observed that women who consumed 19g of alcohol a day - about two small glasses of wine ? reported a reduction in loss of old bone.
The intake of wines seems to be a remedy that strike a balance a between the between the dissolving of old bone and poor production of new bone that results in osteoporosis in older women.
In comparison, abstaining from alcohol leads to a higher risk of developing osteoporosis, the study said.
Sarah Leyland of the National Osteoporosis Society warned against more consumption of alcohol for protecting bones.
"Moderate amounts of alcohol might be beneficial for bones, but excessive alcohol increases the risk of fractures, as well as increasing the risk of falls," Leyland has been quoted as saying.
The daily reports that around 300,000 fragility fractures occur every year in Britain, and hip fractures are reason for 1,150 deaths every month.
Another study conducted in Finland found that women drinking more than three alcoholic drinks a week had significantly greater bone density than women who does not drink.
--with inputs from IANS
LATEST IMAGES

MORE...
Social bookmark this page
Post comments: