Ensure food security and energy Indian PM urges to NAM members
Tehran, Thu, 30 Aug 2012
NI Wire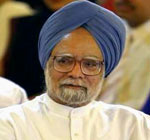 Indian Prime Minister Manmohan Singh Thursday urged the member states of the Non-Aligned Movement (NAM) to work together to ensure food security and energy.
Addressing at 26th NAM summit, Indian PM stressed on the surety of foods and energy which is proving some of the biggest problems in developing countries especially South Asian and African countries.
"Food security is a basic problem for many of our countries. Excessive speculation, structural bottlenecks and lack of coordination are fuelling food inflation at the global level. Our movement should push for effective food policy coordination and cooperation at the global level in areas such as agricultural productivity, weather forecasting and research and development," Singh said.
"Perhaps most relevant for us is to focus on investing in the knowledge economy and building our human resources. When faced with our unique developmental challenges, our youth have the creativity and energy to find solutions that are innovative, frugal and affordable. However, we need to provide them skills and equip them to find productive employment in a rapidly changing and inter-connected global economy. India would be happy to contribute to a NAM initiative on skill development, particularly focused on the knowledge economy," he added.
Stressing that the African continent provided the intellectual wellspring for many of the leaders of the Non Aligned Movement, Manmohan said, "The growth of NAM and decolonization in Africa progressed almost hand in hand. Africa therefore has a special place in NAM. India's own strategic partnership with Africa is premised on making the people of Africa its primary beneficiaries."
"The India-Africa Forum Summit thus provides for an ambitious programme of PAN-African institution-building to enhance our multi-faceted cooperation. I invite interested NAM members to work with us in areas of priority to Africa," he said.
"Nearly two decades ago, India embarked on a "Look East" policy in an endeavour to learn and benefit from and contribute to the evolution of a new Asian economic community to our East. However, the progress, prosperity, well being, political stability and plurality of the Asia to our West has always been of equal historical and civilisational significance for us. A West Asian region that can realize its full potential, live in peace and harmony and join the comity of democratic and plural societies will contribute greatly to human progress and peace in the 21st Century,' he added.
--With ANI Inputs--
LATEST IMAGES

MORE...
Social bookmark this page
Post comments: