Deadly fumes may offer a treatment to heart disease
New Delhi+, Fri, 03 Aug 2012
NI Wire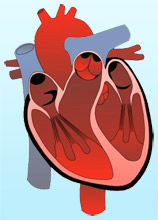 Scientists may have found an innovative method to open up clogged arteries and reverse heart disease. For this purpose they may use the toxic chemicals in vehicle exhaust fumes.
Ian Megson, 44, professor from the University of Highlands and Islands (UHI) and his team of researchers are experimenting with the use of toxic chemicals carbon monoxide and nitric oxide to open up blood vessels and prevent blood clots.
The lead of the study Megson said that release of normally poisonous toxins into the heart in small amount stops the body's ability to clot and relaxes arteries. It also dilates and allows more flow of blood.
This discovery has raised hope for the treatment of patients suffering from heart attacks and strokes. This innovative form of treatment was developed by fine-tuning machines used to measure car exhaust emissions in garages, says a Daily Mail report.
Chemists at St. Andrews University and Megson's team at the UHI carried out this experiment using pig hearts which aims to successfully deliver the gases and measure their impact.
"We are the first to do this. We are using chemical amounts one million times smaller than that released in car exhaust fumes, so very tiny quantities, which when delivered to a specific area can have a beneficial impact on the patient. It is at a very early stage in development but has huge potential." Megson has been quoted as saying.
"Carbon monoxide and nitric oxide are found in car exhaust fumes but they are also found in the body in very small amounts. Each of the gases has a beneficial effect and we believe that delivering them all at the same time could have an even greater impact and we think the organic frameworks are a way to do that," Megson said further.
--with inputs from IANS
LATEST IMAGES

MORE...
Social bookmark this page
Post comments: