Arrogant governments forced us to reach such conclusion:Sisodia
New Delhi, Fri, 03 Aug 2012
NI Wire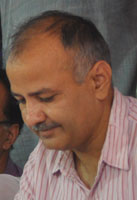 Team Anna key member Manish Sisodia has said that it is very early to say about the formation of a political party and it is public which has to decide the path of the movement from the streets to parliament. Team will have to decide to give a political alternative but it is public which will give the direction.
Manish Sisodia, who is the key member of the team Anna said,"Right now it's premature to say about forming a political party. We will have to give a political alternative and it will come out from the public. The public will decide how the movement, which began on the streets, should reach the parliament."
He said that it has become the nature of various governments - whether at the centre or in the states - not to pay heed to the concerns of the public. So, we had to arrive at a conclusion.
"Will that be done by forming a political party or through individuals or by any other means, we need to hold discussions regarding that. People are sending their views. But the bottom line is to take this movement from the streets to the parliament," Sisodia added.
It is noted that Arvind Kejriwal, Gopal Rai and Sisodia had sat on an indefinite fast July 25, which was joined by Hazare July 29. Anna Hazare and his team members yesterday decided to call off their fast for stringent Jan Lokpal bill today afternoon and claimed to give "political alternative" to the people.
(With inputs from IANS)
LATEST IMAGES

MORE...
Social bookmark this page
Post comments: