BJP demands,PM should resign for transparent enquiry for Coal scam
New Delhi, Wed, 29 Aug 2012
NI Wire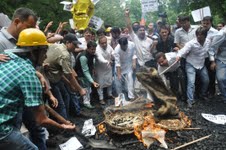 Under the campaign of the Party to fight decisive battle from the Parliament to the streets demanding the resignation of Prime Minister Manmohan Singh for his involvement in the heavy corruption in allocation of coal blocks, thousands of BJYM workers staged a big demonstration at Jantar Mantar.
Addressing the demonstrators Vijender Gupta said that the most corrupt Government by the Congress, which has been claiming to be the protector of the Constitution, has proved that it does not believe in the Constitution of India. When the constitutional body like CAG has accused the Prime Minister directly of corruption of 1.86 lakh crore rupees then the law requires that Manmohan Singh should resign for impartial & transparent enquiry into it so that the investigating agencies may not be pressurized by the PMO.
Anurag Thakur said that BJP will not remain silent in this case. UPA- II Government has broken all the records of corruption. Every day some scam is exposed and entire Congress Government and Congress Party starts covering up that scam. This Government is the Govt. of scams. 110 crore people of the country are badly suffering due to price rise and corruption. Now the country wants to dismiss the Congress Government.
Nakul Bhardwaj told that the way in which the Central Government is involved in corrupt practices the same way Sheila Government is roaming free even after committing corruption of thousands of crores. Many constitutional institutions have recommended for enquiry against Sheila Government, but she remains free from the enquiry into her corruption due to the protection of Congress President Sonia Gandhi & Prime Minister Manmohan Singh.
LATEST IMAGES

MORE...
Social bookmark this page
Post comments: