Anna says, every parties have blackened hands with corruption
Ralegan Siddhi, Sun, 26 Aug 2012
NI Wire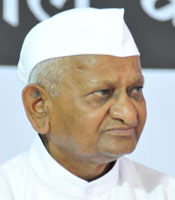 Social activists Anna Hazare have said that the Congress and other political parties have their hands blackened on corruption and it is a demand of time to sent only those people in Parliament who have faith in honesty and integrity. He was commenting on the protest organized by India Against Corruption supporters in national capital Delhi in which they had organized gherao to the residences of PM, Sonia Gandhi and BJP president Nitin Gadkari.
Commenting on the movement, Anna said, "The Congress' hands are blackened, every party has blackened hands, and each is accusing the other of corruption."
Reacting on the standoff between the Bharatiya Janata Party (BJP) and the government over the official auditor's report on allocation of coal blocks, Anna said that no party can give the country any future. The only people with honesty and integrity should be sent to parliament.
It is noted that members of his disbanded Team Anna, including Arvind Kejriwal and Prashant Bhushan, were detained by police in Delhi briefly as they tried to stage anti-corruption protests outside the residences of Prime Minister Manmohan Singh, Congress president Sonia Gandhi and BJP chief Nitin Gadkari. There had been lathicharged on the supporters of IAC during their protests at PM and Sonia Gandhi's residence.
(With inputs from IANS)
LATEST IMAGES

MORE...
Social bookmark this page
Post comments: