Tamil Nadu Teacher Eligibility Test TNTET result 2012 declared: Check results
New Delhi, Sat, 25 Aug 2012
NI Wire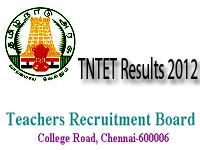 Tamil Nadu Teacher Eligibility Test TNTET result 2012 has been declared. The results are available on the Tamil Nadu Teachers Recruitment Board website http://trb.tn.nic.in/
Click here to check TNTET results
The announcement of results has ended the wait of the candidates who had written the TNTET examination essential to become teacher in the state. And hence TNTET result 2012 has come as a relief.
According to the notification dated 07.03.2012 Tamil Nadu Teacher Eligibility Test TNTET was held on 12.07.2012 by Teachers Recruitment Board. The examination comprised two papers Paper I and Paper-II.
A total of 6,76,763 candidate appeared for the TNTET that includes 2,88,588 candidates for Paper-I and 3,88,175 candidates for Paper-II.
With declaration of the Tamil Nadu Teacher Eligibility Test TNTET results 2012 the wait of all these candidates has ended.
Now the successful candidates of TNTET results 2012 will look for appointment as teacher in the state.
Newstrackindia.com congratulates the successful candidates of the TNTET results 2012.
LATEST IMAGES

MORE...
Social bookmark this page
Post comments:

N. Kanimozhi
February 15, 2014 at 6:05 PM

ANTONY JOSEPH RAJIVKUMAR.J
February 22, 2013 at 8:39 PM

leela mathi
December 18, 2012 at 4:18 PM

leela mathi
December 18, 2012 at 4:18 PM

leela mathi
December 18, 2012 at 4:18 PM

p.sathish raja
December 12, 2012 at 5:39 PM

prakash
November 18, 2012 at 6:17 PM

manikandaboopathy
November 16, 2012 at 7:08 PM

RAJA A
November 8, 2012 at 12:56 PM

rajasundari
November 7, 2012 at 11:15 AM

gnanam
November 6, 2012 at 11:48 PM

gnanam
November 6, 2012 at 11:27 PM

chinnasamy
November 6, 2012 at 10:11 PM

mohamedali
November 6, 2012 at 9:08 PM

Rabin
November 6, 2012 at 7:37 PM

P.Dhanalakshmi
November 6, 2012 at 7:24 PM

Jayavani S
November 6, 2012 at 7:19 PM

elumalai
November 6, 2012 at 2:41 PM

sai.prabhu
November 6, 2012 at 12:51 PM

rizvan
November 5, 2012 at 8:33 PM

12TE21750051
November 5, 2012 at 8:30 PM

D SIBILA
November 5, 2012 at 8:19 PM

TR.ELAYARAJA
November 5, 2012 at 6:24 PM

millas
November 5, 2012 at 6:04 PM

Ukesh
November 5, 2012 at 4:06 PM

Thirumurugan
November 5, 2012 at 3:01 PM

Thirumurugan
November 5, 2012 at 2:59 PM

rajeswari
November 5, 2012 at 1:53 PM

rajeswari
November 5, 2012 at 1:50 PM

rajeswari
November 5, 2012 at 1:50 PM

dillibabu
November 5, 2012 at 1:46 PM

rajni.m
November 5, 2012 at 1:30 PM

mallika
November 5, 2012 at 10:12 AM

R.SUGANYA
November 5, 2012 at 9:44 AM

A.Niranjana
November 5, 2012 at 9:40 AM

P.Kaviyarasan
November 5, 2012 at 7:28 AM

tamil
November 5, 2012 at 7:24 AM

gomathi.s
November 5, 2012 at 1:11 AM

gomathi.s
November 5, 2012 at 1:09 AM

m. senthil ram
November 4, 2012 at 9:24 PM

yasotha
November 4, 2012 at 6:13 PM

Gowri M
November 4, 2012 at 4:44 PM

S GANESH BABU
November 4, 2012 at 4:43 PM

pkindrapriyatharshini
November 4, 2012 at 4:05 PM

KARTHI
November 4, 2012 at 4:02 PM

A.Roslin mary
November 4, 2012 at 3:29 PM

s.muthuvel
November 4, 2012 at 2:58 PM

mydeen pathu
November 4, 2012 at 2:25 PM

sarbudeen
November 4, 2012 at 1:19 PM

soundararajan.s
November 4, 2012 at 1:00 PM

DHANALAKHMI.P
November 4, 2012 at 12:57 PM

Panneer
November 4, 2012 at 12:42 PM

Panneer
November 4, 2012 at 12:42 PM

rubus
November 4, 2012 at 10:36 AM

grubus
November 4, 2012 at 10:34 AM

KAROLINE
November 4, 2012 at 10:32 AM

Nikhilamathi
November 4, 2012 at 9:38 AM

ANITHA KAMARAJ
November 4, 2012 at 9:20 AM

jeyalakshmi
November 4, 2012 at 8:34 AM

T.perumalammal
November 4, 2012 at 8:30 AM

jayalakshmi
November 4, 2012 at 8:29 AM

T.perumalammal
November 4, 2012 at 8:26 AM

suresh
November 4, 2012 at 8:06 AM

M.PREMASIVAKUMARI
November 4, 2012 at 7:22 AM

meena.G
November 4, 2012 at 7:16 AM

s.velumani
November 4, 2012 at 7:07 AM

S.VELUMANI
November 4, 2012 at 7:05 AM

s.anbu
November 4, 2012 at 6:09 AM

A.MARIA AROKIA LAWRENCE
November 3, 2012 at 11:56 PM

A.MARKRATE SUDHARSANA
November 3, 2012 at 11:45 PM

S. JESINTHA ARUL RANI
November 3, 2012 at 11:43 PM

mohan.p
November 3, 2012 at 11:37 PM

maya
November 3, 2012 at 11:11 PM

P.Gowri
November 3, 2012 at 11:09 PM

muthukumari.s
November 3, 2012 at 10:33 PM

muthukumari.s
November 3, 2012 at 10:27 PM

muthukumari
November 3, 2012 at 10:25 PM

Vijiya
November 3, 2012 at 10:01 PM

p.mary margaret
November 3, 2012 at 9:55 PM

SINDHIYA
November 3, 2012 at 9:53 PM

P.MARY MARARET
November 3, 2012 at 9:52 PM

Mohan
November 3, 2012 at 9:30 PM

E.Priyadharshine
November 3, 2012 at 9:29 PM

P.VASANTHA
November 3, 2012 at 9:27 PM

e.priyadharshini
November 3, 2012 at 9:25 PM

P.ganesh
November 3, 2012 at 9:12 PM

P.ganesh
November 3, 2012 at 9:11 PM

mohan
November 3, 2012 at 8:57 PM

kalaivani.p
November 3, 2012 at 8:57 PM

subbiah pilai
November 3, 2012 at 8:53 PM

karpagam
November 3, 2012 at 8:51 PM

karpagam
November 3, 2012 at 8:50 PM

k.manoj
November 3, 2012 at 8:49 PM

sheeba.d
November 3, 2012 at 8:49 PM

lakshmanna
November 3, 2012 at 8:48 PM

K HEMALATHA
November 3, 2012 at 8:36 PM

vinothkumar.p
November 3, 2012 at 8:35 PM

K HEMALATHA
November 3, 2012 at 8:33 PM

saritha
November 3, 2012 at 8:23 PM

M.PADMA
November 3, 2012 at 8:14 PM

nadarajan
November 3, 2012 at 8:08 PM

nadarajan
November 3, 2012 at 8:08 PM

Vasantha Prabha
November 3, 2012 at 8:03 PM

R.RAJESWARI
November 3, 2012 at 7:57 PM

BABT THERES
November 3, 2012 at 7:56 PM

karthi
November 3, 2012 at 7:41 PM

karthi
November 3, 2012 at 7:41 PM

kuppan
November 3, 2012 at 7:23 PM

kuppan
November 3, 2012 at 7:20 PM

kuppan
November 3, 2012 at 7:18 PM

muthumari.k
November 3, 2012 at 7:13 PM

d.sumathi
November 3, 2012 at 7:01 PM

elangovan.p
November 3, 2012 at 6:54 PM

gopi
November 3, 2012 at 6:07 PM

MOHANA SUDHA .M
November 3, 2012 at 6:02 PM

moorthy
November 3, 2012 at 5:31 PM

muthu priya
November 3, 2012 at 5:30 PM

selvakumar.r
November 3, 2012 at 5:29 PM

M.SUGANTHI
November 3, 2012 at 5:28 PM

senthil
November 3, 2012 at 5:26 PM

praba
November 3, 2012 at 5:21 PM

A.Michael Raj
November 3, 2012 at 5:18 PM

C.DEVI
November 3, 2012 at 5:16 PM

karthikeyan
November 3, 2012 at 5:14 PM

Santhalakshmi. M
November 3, 2012 at 5:06 PM

ramya r
November 3, 2012 at 5:03 PM

deepa
November 3, 2012 at 5:01 PM

S.Bakiyalakshmi
November 3, 2012 at 4:59 PM

deepa
November 3, 2012 at 4:58 PM

palani
November 3, 2012 at 4:57 PM

S.Bakiyalakshmi
November 3, 2012 at 4:57 PM

viji
November 3, 2012 at 4:57 PM

viji
November 3, 2012 at 4:57 PM

viji
November 3, 2012 at 4:57 PM

viji
November 3, 2012 at 4:57 PM

jaii
November 3, 2012 at 4:55 PM

jaii
November 3, 2012 at 4:55 PM

jaii
November 3, 2012 at 4:55 PM

jaii
November 3, 2012 at 4:55 PM

jaii
November 3, 2012 at 4:55 PM

jaii
November 3, 2012 at 4:55 PM

jaii
November 3, 2012 at 4:55 PM

muthulakshmi
November 3, 2012 at 4:51 PM

K.Meena
November 3, 2012 at 4:46 PM

siva
November 3, 2012 at 4:36 PM

K. Sagunthala
November 3, 2012 at 4:33 PM

seth
November 3, 2012 at 4:31 PM

jai
November 3, 2012 at 4:26 PM

prabagaran
November 3, 2012 at 4:25 PM

Subahan Babu
November 3, 2012 at 4:22 PM

prabagaran
November 3, 2012 at 4:22 PM

vasanthisundar
November 3, 2012 at 4:04 PM

dinesh.sg
November 3, 2012 at 3:56 PM

vairam
November 3, 2012 at 3:48 PM

kokila
November 3, 2012 at 3:41 PM

vanitha
November 3, 2012 at 3:41 PM

BAKKIYARAJ
November 3, 2012 at 3:38 PM

P.THAMIL SELVI
November 3, 2012 at 3:27 PM

chitra
November 3, 2012 at 3:23 PM

amudha P
November 3, 2012 at 3:20 PM

varalakshmi
November 3, 2012 at 3:17 PM

Saranya
November 3, 2012 at 3:13 PM

Vimala
November 3, 2012 at 3:12 PM

anu
November 3, 2012 at 3:11 PM

l.sivanithya
November 3, 2012 at 3:09 PM

NIVEDHA
November 3, 2012 at 3:08 PM

Vijayalakshmi.S
November 3, 2012 at 3:06 PM

SARBU
November 3, 2012 at 2:57 PM

Rajinivel d
November 3, 2012 at 2:37 PM

murugaraj
November 3, 2012 at 2:27 PM

Saravanakumar
November 3, 2012 at 2:08 PM

s.mythili
November 3, 2012 at 2:05 PM

madevaiah.s
November 3, 2012 at 1:54 PM

L.MANIMEKALA
November 3, 2012 at 1:52 PM

T.pakkiyam
November 3, 2012 at 1:52 PM

madevaiah.s
November 3, 2012 at 1:51 PM

j.deepa
November 3, 2012 at 1:47 PM

s.selvamani
November 3, 2012 at 1:28 PM

ramkumar
November 3, 2012 at 1:28 PM

gopi
November 3, 2012 at 1:28 PM

vaishali
November 3, 2012 at 1:22 PM

arun
November 3, 2012 at 1:21 PM

arun
November 3, 2012 at 1:19 PM

sasi
November 3, 2012 at 1:18 PM

m.sumangali
November 3, 2012 at 1:15 PM

nethaji
November 3, 2012 at 1:15 PM

R.SATHISH KUMAR
November 3, 2012 at 1:12 PM

jagan
November 3, 2012 at 1:04 PM

sowndarya
November 3, 2012 at 1:03 PM

john raj kumar
November 3, 2012 at 12:59 PM

susidha
November 3, 2012 at 12:55 PM

LAVANKUMAR
November 3, 2012 at 12:46 PM

SURESH.S
November 3, 2012 at 12:46 PM

Malathi
November 3, 2012 at 12:45 PM

sarathi
November 3, 2012 at 12:37 PM

P.Athirsta lakshmi
November 3, 2012 at 12:31 PM

rama
November 3, 2012 at 12:25 PM

Ashok
November 3, 2012 at 12:15 PM

jayalakshmi
November 3, 2012 at 12:11 PM

sangeetha.m
November 3, 2012 at 12:09 PM

sangeetha.m
November 3, 2012 at 12:09 PM

Mailavan
November 3, 2012 at 12:08 PM

R.Regina
November 3, 2012 at 12:01 PM

THARANI.N
November 3, 2012 at 12:00 PM

kalpana
November 3, 2012 at 11:55 AM

THARANI.N
November 3, 2012 at 11:53 AM

A Rajaguru
November 3, 2012 at 11:52 AM

THARMARAJ
November 3, 2012 at 11:52 AM

R.Regina
November 3, 2012 at 11:50 AM

selva
November 3, 2012 at 11:49 AM

R.subbulakshmi
November 3, 2012 at 11:37 AM

karthikeyan.a
November 3, 2012 at 11:35 AM

SRINIVASAN.S
November 3, 2012 at 11:32 AM

S.D.DAMODARAN
November 3, 2012 at 11:30 AM

K. Ameelia Luckshiba Karoline
November 3, 2012 at 11:28 AM

rahav
November 3, 2012 at 11:23 AM

Lakshmi Prabha
November 3, 2012 at 11:20 AM

N.Raghuraman
November 3, 2012 at 11:16 AM

ramya
November 3, 2012 at 11:15 AM

prabhu
November 3, 2012 at 11:10 AM

N.Raghuraman
November 3, 2012 at 11:08 AM

Suba.R
November 3, 2012 at 11:01 AM

D.ARUNA
November 3, 2012 at 11:00 AM

vishnu priya.m
November 3, 2012 at 10:55 AM

mathiyazhagan
November 3, 2012 at 10:07 AM

B.jemina
November 3, 2012 at 9:17 AM

B.Jeyarani
November 3, 2012 at 9:16 AM

M.ANAND
November 3, 2012 at 9:14 AM

muthu sri
November 3, 2012 at 9:09 AM

g.radhakrishnan
November 3, 2012 at 9:01 AM

g.radhakrishnan
November 3, 2012 at 8:59 AM

Vasantha Prabha
November 3, 2012 at 8:15 AM

anguraj.k
November 2, 2012 at 11:56 PM

venkatesh
November 2, 2012 at 11:44 PM

G.MONVIZHI
October 31, 2012 at 7:53 PM

Priyanka
October 10, 2012 at 3:09 PM

SUDHAKAR.E
September 27, 2012 at 12:50 AM

prabu.k
September 21, 2012 at 10:54 PM

MANIMEGALAI S
September 4, 2012 at 5:35 PM

M. SANTHI
September 4, 2012 at 1:15 AM

Ezhil
August 27, 2012 at 8:33 PM

B.Pallavi
August 26, 2012 at 9:02 PM

B.Pallavi
August 26, 2012 at 8:57 PM

prakashraj
August 26, 2012 at 8:45 PM

vasantha priya
August 26, 2012 at 8:22 PM

Vidhyasankar M
August 26, 2012 at 6:42 PM

V.Umamaheswari
August 26, 2012 at 6:36 PM

V.Umamaheswari
August 26, 2012 at 6:33 PM

VASANTHI
August 26, 2012 at 6:31 PM

Vidhyasankar M
August 26, 2012 at 6:29 PM

devi .M
August 26, 2012 at 6:10 PM

SIVANESAN.T
August 26, 2012 at 5:11 PM

m.murugan
August 26, 2012 at 4:40 PM

v.umamaheswari
August 25, 2012 at 10:00 PM

M KAYALVIZHI
August 25, 2012 at 8:20 PM

saritha
August 25, 2012 at 7:46 PM

sarwan jack
August 25, 2012 at 7:37 PM

t saritha
August 25, 2012 at 7:29 PM

visvanathan
August 25, 2012 at 6:53 PM

UDHAYA
August 25, 2012 at 6:07 PM

M.VANITHA
August 25, 2012 at 2:01 PM

A. IRSATH BEGAM
August 25, 2012 at 1:17 PM