Shirin Farhad Ki Toh Nikal Padi Movie Review
New Delhi, Fri, 24 Aug 2012
NI Wire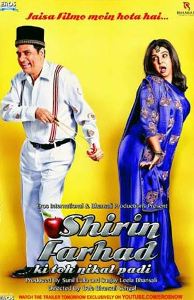 Cast : Boman Irani, Farah Khan, Kavin Dave, Shammi, Kurush Deboo, Daisy Irani

Music : Jeet Ganguly
Producer : Sanjay Leela Bhansali, Sunil Lulla
Director : Bela Bhansali Sehgal
The wait is finally over to see the dancing lady "Farah Khan" to act and romance on screen with the release of the much-awaited movie "Shirin Farhad Ki Toh Nikal Padi" this Friday.
Shirin Farhad Ki Toh Nikal Padi is basically a comedy drama with a blend of romance in it, which revolves around a 45-year who has passed all his life selling bra and panty, Farhad Pastakiya (Boman Irani) who is still a bachelor and never had a girlfriend in his life. The only woman in the life of the Parsi salesman who has a candid heart is her dominating mother Nargis and her excessively fond grandmother Siloo.
The days start changing for Farhad when he meets a 34-B, 40-year-old Shirin Fugawala (Farah) walks into her shop and the story of "love at first sight" begins. Shirin Fuggawala (Farah Khan) is the secretary of the Parsi Trust, who could not find her perfect man yet.
But the twist begins as Farhad?s does not approve Shirin assuming her to be the enemy of the single ruled thrown.
In spite of not having a big star cast, Shirin Farhad Ki Toh Nikal Padi will definitely entertain you with its gear comic sequences and some excellent performances.
The 50-year, Boman Irani is really impressive to watch in the role of a lover which a young heart and has proved his versatility. Farah has justified her role and looks quite natural in her role in spite of not having that stunning figure and look. Honey Irani and Shammi have both equally justified their character and really look sweet.
Director Bela Bhansali Sehgal must be appreciated to do such a wonderful job in his directorial debut and daring to make such a movie with 45+ year actors in the lead role.
Overall you are going to enjoy Shirin Farhad Ki Toh Nikal Padi on screen which is a real laugh riot.
-Submitted by: Amit Pandey
LATEST IMAGES

MORE...
Social bookmark this page
Post comments: