No need for 'big Capital in small trading' in India: Joshi
New Delhi, Fri, 24 Aug 2012
NI Wire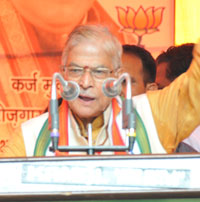 Senior BJP leader and former Union Minister Murli Manohar Joshi had blamed Congress that the central government is supporting Multi National Companies on the cost of common man of India, which can't be tolerated. Addressing to an agitation organized by BJP at Jantar-Mantar in Capital, Joshi said that only one East India company made India slave for many years and now there are many MNCs are ready to knock the door again.
Addressing to the party workers and traders, Joshi reminded that FDI in retail sector will create hazards for the small-scale traders in the country. In lieu of supporting these small traders, UPA government has been trying to increase their troubles by inviting these MNC in the country.
Joshi said, "It has been said that Wall Mart like companies will buy 20 percent products from India but it is false. The truth is that it buys its products from Chinese market where goods are cheaper than India."
China where there is no judiciary, no rule, no business and where goods are very cheap in comparison to India. That is why they buy their 80 percent products from China and why these companies will buy products from Indian companies, he added.
He said that it is not only a fight for traders only as these MNC companies will directly hit the interests of Indian farmers also.
Commenting on the speculation that there will not be any 'middlemen' need during their system, he said that fact is there will be more than four middlemen in their system. They will harass Indian farmers for the clearance of their products from various laboratories and our innocent farmers will be trapped in their net.
Opposing the entry of FDI in retail sector, he said there is a need to save the interests of small traders in the country and big capital should not be allowed to hamper their livelihood. It will make them job less and it will create panic at crores of people are engaged with small trading.
He also lambasted the Food Security safety bill and said that small scale business man will be harrased on the name of food safety and MNC will forced them to buy packed food on the name of safety.
He said that the commonman of country is more important than the MNC of USA and BJP will continue its support and stand with the small traders in opposing these companies which entry will assured another slavery for the country.
LATEST IMAGES

MORE...
Social bookmark this page
Post comments: