Rajasthan 3rd third grade 2nd (second) level result 2012
New Delhi, Thu, 23 Aug 2012
NI Wire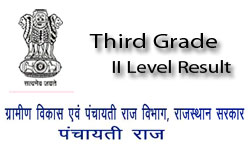 Rajasthan third 3rd grade 2nd (second) level result 2012 is expected to be announced tomorrow. The results of nine subjects of third grade second level will be declared through district board. The declaration of second level teacher result will facilitate the recruitment of teachers in state.
The results of second level third grade teacher will be announced after more than two months after conduct of examination.
This time preparations are made to not to repeat the mistakes made in first level results.
The examination for first and second level of third grade teacher was held on June 2, 2012.
2,16,723 candidates appeared for the 30,000 post of IIIrd grade IInd (second) level posts which is 41.85 percent of the total candidates applied.
For the third grade second (II) level (class V to VII), exam of nine subject were taken.
After announcement of the Rajasthan 3rd grade 2nd (second) level result on tomorrow the process of appointment can be initiated.
Newstrackindia.com will keep updating aspirants on the 3rd grade 2nd (second) level results 2012.
LATEST IMAGES

MORE...
Social bookmark this page
Post comments:

ramkeshjat
August 28, 2012 at 8:58 AM

ramkeshjat
August 28, 2012 at 8:58 AM

nitu chodhary
August 25, 2012 at 12:31 PM

nitu choudhary
August 25, 2012 at 12:29 PM

Govind ram Kumawat
August 25, 2012 at 12:51 AM

Premlata
August 24, 2012 at 11:04 PM

GOVIND SINGH BAGHEL
August 24, 2012 at 10:53 PM

GOVIND SINGH BAGHEL
August 24, 2012 at 10:52 PM

SACHIN SHARMA
August 24, 2012 at 10:12 PM

sitaram
August 24, 2012 at 10:04 PM

bhupender
August 24, 2012 at 9:37 PM

Bhoopendra singh
August 24, 2012 at 8:05 PM

DUSHYANT KUMAR
August 24, 2012 at 7:06 PM

Numesh
August 24, 2012 at 1:29 PM

Numesh
August 24, 2012 at 1:29 PM

Free MLM Software
August 24, 2012 at 12:54 PM

Prem chand yadav
August 24, 2012 at 10:00 AM

Prem chand Yadav
August 23, 2012 at 3:09 PM