8 lakh likes in half an hour as Amitabh Bachchan joins Facebook
New Delhi, Tue, 21 Aug 2012
NI Wire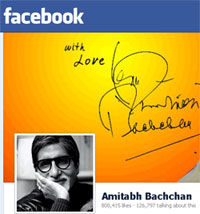 Amitabh Bachchan has recently join Facebook and his page has received nearly 8 Lakh likes in just half an hour.
He widely uses the online medium through his blog or Twitter or through his voice blog. And now he has joined Facebook.
His page currently has 798,231 likes.
Amitabh tweeted, "Yipee! I am on Facebook!My ID: FaceBook.com/AmitabhBachchan".
"And!! It is close to 8 lakh in half an hour!! Keep it coming, Baby," he added.
He has also posted a video on the page, which says, "Hello everybody! This is Amitabh Bachchan and I just want all of you to know that now I am on Facebook and this is a welcome device. The way the digital world is going is just unbelievable. And I thought that I would use facebook to connect with all my well- wishers yet again. You have been with me at Blog and Twitter and here is another medium that is now going to connect us even further".
"Year after year, month after month, day after day we are coming closer to each other. Lovely to have you here and we shall be seeing each other and you will get to know more about me and my daily activities where I go, what I do though this wonderful medium. Thanks for being with me on Facebook and we will be with you very shortly. Thank you".
LATEST IMAGES

MORE...
Social bookmark this page
Post comments: