Narang, Vijay kumar felicitated
New Delhi, Sun, 19 Aug 2012
NI Wire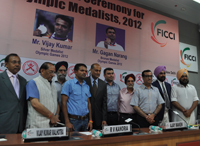 Minister of State for youth and sports Ajay Makan has said that there is a need for the promotion of games and sports in the country, corporate sector especially private sector should come forward for the same. Congratulating the Olympian heroes shooter of India, Makan said that India has done well and now the better part from these sports persons is yet to come.
He was addressing a conference organized at FICCI for the felicitation of India. On the occasion The National Rifle Association of India gave cheque of Rs. 15 lakh to Narana and Rs. 20 lakh to Vijay Kumar for their performance in the London Olympic.
Addressing to the conference Makan said that Indian shooters have performed well in London Olympic and even those players who do not succeeded in getting any medal, have performed their best.
As Olympic is the competitions where medals are decided by a fraction of seconds, so it was crucial for each competitors. Now they have to concentrate on the next game where they have to get lot of medals.
He said that private sector should come forward to encourage these players for the sake of countries. Marry Kom was in search of a private sponsor before Olympic but now she has to select one of them. Certainly these companies should come forward on the time.
On the occasion Vijay Kumar Malhotra said that in a country like India where people are crazy for cricket, it is satisfactory that these shooters and players have performed well in the Olympic and bagged six medals in a single game.
LATEST IMAGES

MORE...
Social bookmark this page
Post comments: