51000 telephone numbers of unregistered telemarketers Disconnected
New Delhi, Sat, 18 Aug 2012
NI Wire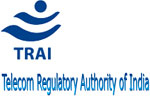 Government has disconnected 51,000 telephone numbers of subscribers who have not registered themselves as a telemarketer but still are working as them.
Minister of State for Communications and IT, Milind Deora said, "Notices have been served on nearly 88,300 subscribers who have carried out similar violations".
According to Telecom Commercial Communications Customer Preference Regulations, 2010, subscriber must be registered with TRAI as a telemarketer to make any commercial communications.
If the person is not registered the originating access provider shall issue a notice to such subscriber asking him to discontinue sending such communications. On the second occasion his telecom services will be disconnected.
140 number series are allotted to registered telemarketers.
LATEST IMAGES

MORE...
Social bookmark this page
Post comments:

sky
August 19, 2012 at 10:42 PM

Sankalp
August 19, 2012 at 8:39 PM