Independence Day celebrated at DPCC office, Rajiv Bhawan
New Delhi, Wed, 15 Aug 2012
NI Wire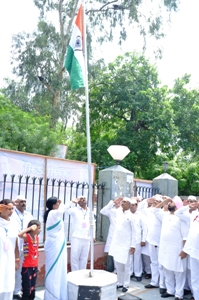 Delhi Pradesh Congress Committee (DPCC) president and MP Shri Jai Prakash Agarwal, on the occasion of the 66th Independence Day flag-hoisting ceremony at the DPCC office, Rajiv Bhawan here today, said that the need of the hour was to carry forward the developmental works initiated by the Congress-led UPA Government at the Centre and fight the forces of disruption and terror. He said only by putting up a united front, the country could march ahead on the road to development and progress.

Apart from Shri Jai Prakash Agarwal, former Municipal Councillor Mahamood Zia, Kamal Kant Sharma, Dheerendra Tyagi, Suresh Malik, Hari Kishan Jindal, Ishwar Bagari, Mahender Gupta, Gopal Paharia, Savitri Tomar, P.K. Mishra, Satinder Sharma, Dharmender Solanki, Dr. R,B, Singh, P.S. Bawa, Mukesh Sachdeva, Kanwal Singh Negi, Ashok Sonia Delhi Sewa Dal Chief Organiser Dineshwar Tyagi and large number of Congress workers were also present at the ocassion.

During the occasion Shri Agarwal said it was essential that peace and calm should prevail in the society for prosperity and progress, so that people could carry on with the work of national development and help each other in their growth in every sense. He said India gained independence because of the struggle of our great leaders and countless number of common people and such hard-won freedom should not be frittered away in fruitless pursuits. He said the country, under the Congress-led UPA Government, was on the right side of development and the people should keep a watchful eye to ensure that no road-block is created in the country?s march towards progress and development, particularly in the educational sector, poverty alleviation and employment generation.

Shri Agarwal said the best way to perpetuate the memory of those great freedom fighters, who spent their youth and life for the freedom and independence of the country, was to uphold their ideals and work towards achieving their dream of making India a free-spirited, forward-looking, developing nation where everyone stand to gain equal opportunity for advancement in education and every sphere of progress.

Shri Agarwal said under the dynamic guidance and leadership of Smt. Sonia Gandhi, India would overcome all the obstacles on its path and march into a bright future. He said no power on earth can stop India?s march to a new dawn, a new era, as the Congress Party was determined to fulfill the dream of Gandhi and Nehru of making the country the greatest.

Shri Agarwal exhorted the youth of the country not to get caught in the games of the destructive forces, but uphold the ideals of the great leaders of the country like Mahatma Gandhi, Jawaharlal Nehru, Lal Bahadur Shastri, Smt. Indira Gandhi and Shri Rajiv Gandhi and work for the development and growth of the country, to make not only their own future bright, but the future of the coming generation bright as well.
LATEST IMAGES

MORE...
Social bookmark this page
Post comments: