And the 'Greenest games ever' medal goes to London Olympic
London, Sun, 12 Aug 2012
NI Wire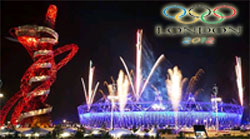 There is another reason for the organizers of London Olympic to cheers, as it has declared the greenest Olympic ever that has held. The honor has been provided by a commission set up to supervise the event's environmental impact.
According to the independent Commission for a Sustainable, recycling and regeneration had been a success at the London Olympics, but claimed that much more could be done to minimize the impact of future Olympic games on people and the planet.
Commission chairman Shaun McCarthy has said that the London had set high standards for future Olympic host cities to follow.
It is noted that previous Olympics have reportedly been criticized for the environmental damage that they caused through waste, construction and transport. But London Olympic has set high standards and certainly it has provided a parameter for the future when the game will organize.
According to the commission, sustainability was at the heart of London's bid for the Olympics and the organisers had largely succeeded in achieving it.
The Olympic Park was also praised for regenerating a derelict area and benefiting wildlife, and the commission said it was amazed by the success of public transport.
(With inputs from ANI)
LATEST IMAGES

MORE...
Social bookmark this page
Post comments: