India celebrates Krishna Janmashtami today
New Delhi, Fri, 10 Aug 2012
NI Wire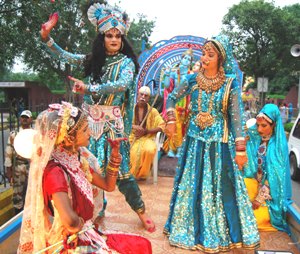 Today is Krishna Janmashtami and the whole nation is waiting for "Kanahiya" (Lord Krishna) to take birthwith great fervor and enthusiasm.
Janmashtami is celebrated as a festival in India to mark the birth of Lord Krishna, an incarnation of god Vishnu, "Preserver of the universe" in Hindu Mythology.
Krishna Janmashtami is celebrated every year on the "Ashtami tithi", the eighth day of the dark half or Krishna Paksha in the month of Bhadra as per the Hindu calendar, when the Rohini Nakshatra is predominant.
This day is observed by doing Ras Lila and Dahi Handi celebrations at different places to mark the presence of Krishna.
On this occasion President Pranab Mukherjee, Vice President Mohammad Hamid Ansari, Prime Minister Dr. Manmohan Singh and Lok Sabha speaker Meira Kumar have greeted the entire nation. President Mukherjee appealed to all the citizens of the country to dedicate themselves to their service for the nation on this auspicious occasion.
"On the occasion of Janmashtami, I extend my greetings and good wishes to all my fellow citizens. Let us on this auspicious day dedicate ourselves to the service of the nation. Let us concentrate on performing our duties without thinking about the rewards," said President Mukherjee.
"Good results will definitely follow right actions. Let us imbibe Lord Krishna's message of love and compassion, of oneness and pluralism and work together to take our great country forward," he added.Vice President Ansari in his message said Janmashtami reminds us of the life and teachings of Lord Krishna.
"I extend my heartiest greetings and good wishes to the citizens of our country on the auspicious occasion of Janmashtami," said Vice President Ansari.
"Celebrated across the country with traditional fervour and enthusiasm, Janmashtami reminds us of the life and teachings of Lord Krishna. May this auspicious occasion bring amity, harmony, prosperity and happiness in our lives," he added.
The Prime Minister in his message said Janmashtami is a celebration of Lord Krishna's timeless message of renunciation of the fruits of action.
"May the festival inspire us towards a disciplined work-ethic, and imbibe us with the spirit of selfless service to the Nation," he added.
Lok Sabha speaker Meira Kumar said it is an auspicious and joyous occasion that motivates us to follow the path of compassion, judicious conduct and selfless service.
-With inputs from ANI
LATEST IMAGES

MORE...
Social bookmark this page
Post comments: