Paes and Vesnina runners up in Wimbledon final
New Delhi, Mon, 09 Jul 2012
NI Wire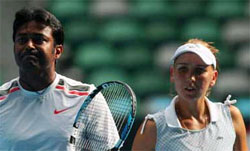 Leander Paes and Elena Vesnina lost to second seeds Mike Bryan and Lisa Raymond in the Wimbledon mixed doubles on Sunday.
The Indo-Russian could not make it against their American opponents, losing 3-6, 7-5, 6-4 in the closed roof of the Centre Court at SW 19. Leander Paes and Elena Vesnina , the fourth seeds, who had made an unexpected run by defeating top seeds Bob Bryan and Liezel Huber in semifinals Saturdayto make it to the finals.
After the Australian Open, it was the second Grand Slam final appearance of the year for Paes and Vesnina where they lost to become runners up.
Paes who had won three mixed double titles in1999, 2003 and 2010 with Lisa Raymond, Martina Navratilova and Cara Black respectively was aiming for his fourth mixed doubles title here with Vesnina. Paes has won a total of six mixed doubles and seven doubles Grand Slam trophies to his name.
Athough, Vesnina is yet to win any major title after finishing runners up six times in the two doubles events.
Paes and Vesnina struggled with their serves in the first set against Mike and Raymond who proved great compliment to each other. Mike smashed outfast serves and Raymond was brilliant with the returns.
The Americans broke Paes in sixth game to make it 4-2 to clinch the set.
Mike and Huber looked confident to finish the match after leading 5-3 in the second set. However, Paes and Vesnina made a comeback quickly to take the next four games and level the match.
In the decider game, the Indo-Russian pair retained good momentum but their serve started looking shaky once again. Paes was broken in the first game and the scores went to 0-2 down.
However, they got their act together once again by winning the next three games.
The match came into the favour of Mike and Raymond after they broke the serve of Vesnina for a 5-3 lead. And from then there was no further comeback from their opponents and Mike closed out the match with a perfect service game.
The title is Mike's maiden mixed doubles title here and fifth for Raymond.
-With inputs from IANS
LATEST IMAGES

MORE...
Social bookmark this page
Post comments: