World forgets Indian God of 'God Particles'
New Delhi, Thu, 05 Jul 2012
NI Wire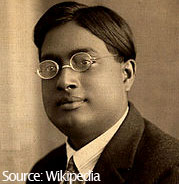 Before the demonstration of 'Higgs Boson' popularly known as 'God Particles', there were various rumours about the much- awaited undiscovered subatomic particle, which could prove a breakthrough in modern physics. But after the demonstration and approval of scientists across the World at European Organisation for Nuclear Research (CERN), Geneva, there was only one name Peter Higgs, a famous British Scientists who first predicted the existence of such particle in 1960s. He was also present at CERN and scientists have nomenclature the new discovery behind him.
The media of entire world also published and telecast thousands of news pertaining to Higgs Boson and Peter Higgs, but very few have recalled that what is behind the name of Higgs Boson.
It is an Indian Scientist Satyendra Nath Bose, who is less recognized by the world but researchers and physics students are well aware about his theory 'Bose-Einstein statistics' and the theory of the Bose?Einstein condensate, which he developed with famous scientists Albert Einstein.
However, he was never recalled for prestigious Nobel Prize, which was still presented in this field. But, his name behind Higgs Boson would made him immortal.
Satendra Nath Bose: a brief overview
Satyebdra Nath Bose was an Indian physicist, researcher and scholar who got the opportunity to work with some great scientists like Albert Einstein, Louis de Broglie and Madam Curie. He was the fellow of another Indian scientist Meghnad Saha after the Saha Institute of Nuclear Physics is named in India.
He was born at Calcutta on 01st January 1894. His father Surendra Nath Bose was an engineer with the East Indian Railway Company. He completed his education in India and began to take up assignments at Calcutta and Dhaka universities where he would set up entire laboratories to teach his students.
During his education, he made a name for himself for his mathematical prowess and his love for science. He would secure highest marks in every discipline in the class. His class fellow Meghnad Saha stood second.
Bose, along with Saha, presented several papers in theoretical physics and pure mathematics 1918 onwards. In 1924, while working as a Reader at the Physics Department of the University of Dhaka, Bose wrote a paper deriving Planck's quantum radiation law without any reference to classical physics and using a novel way of counting states with identical particles. This paper was seminal in creating the very important field of quantum statistics. Though not accepted at once for publication, he sent the article directly to Albert Einstein in Germany. Einstein, recognizing the importance of the paper, translated it into German himself and submitted it on Bose's behalf to the prestigious Zeitschrift für Physik. As a result of this recognition, Bose was able to work for two years in European X-ray and crystallography laboratories, during which he worked with Louis de Broglie, Marie Curie, and Einstein.
Bose's 'mistake' is today what the world calls Bose?Einstein statistics. This result derived by Bose laid the foundation of quantum statistics, as acknowledged by Einstein and Paul Dirac.
In 1937, Rabindranath Tagore dedicated his only book on science, Visva-Parichay to him. The Indian government honoured him with title Padma Vibhushan in 1954. In 1959, he was appointed as the National Professor, the highest honor in the country for a scholar, which he held for 15 years. In 1986 S.N. Bose National Centre for Basic Sciences was established in Salt Lake, Calcutta in his honour.
In 1958 he became a Fellow of the Royal Society. He was nominated as member of Rajya Sabha. Apart from physics he did some research in Biotechnology and literature (Bengali, English). The great scientists died on 04th February 1974 in Calcutta after completing 80 years.
--With Agencies Inputs--
LATEST IMAGES

MORE...
Social bookmark this page
Post comments: