Need for effective, pure and standard Ayurvedic medicine: President
New Delhi, Thu, 05 Jul 2012
NI Wire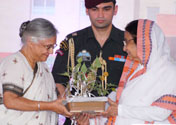 President of India, Smt. Pratibha Devi Singh Patil has said that as per Ayurved anybody can keep himself/herself fit and active while performing yoga and concentrating on dhyan. While referring to a report of World Health Organization she stated that traditional medicines are still useful and effective. There is a need to disseminate effectiveness and capacity of overcoming diseases of Ayurvedic medicines. She was speaking during inauguration of the newly constructed Ch. Bramprakash Ayurvedic Sansthan at Khera Dabar near Najafgarh and dedicated the Sansthan to the nation. Delhi chief minister Sheila Dikshit was also present on the occasion.
On the occasion President stated that according to Ayurved, human body is formed of five elements. In case proportion of these elements is disturbed the person becomes sick. She further stated that absence of exercise and use of fast food are becoming causes of different diseases like Diabetes, hypertension and heart ailments. She called upon the manufactures of Ayurvedic medicines to strictly follow standards of certification, purity, quality and pharmacology.
She added that there is a need to move forward in the direction of patent for Ayurvedic medicines. She expressed concern over the fact that medicinal herbs are endangered due to climate change. She expressed pleasure that the Institute at Najafgarh has developed a well spread herbal garden to protect medicinal plants and grow such plants. She exhorted all concerned to compile and standardize the comprehensive knowledge on Ayurved.
Speaking on this occasion, Chief Minister Sheila Dikshit stated that inauguration of a unique Ayurved Institute in rural belt is a matter of pleasure for everyone. The institute comprises of a hospital, Ayurved Medical College, Herbal Garden and an advanced research centre. Foundation stone of this was laid in 2007. The DSIIDC has constructed it with an amount of Rs. 160 Cr. The Institute started gaining reputation right from the first day of its functioning. The Institute will be developed further to make it a centre of excellence in the field of Ayurvedic Research and treatment.
LATEST IMAGES

MORE...
Social bookmark this page
Post comments: