Kolkata to host 19th International AIDS conference
New Delhi, Thu, 05 Jul 2012
NI Wire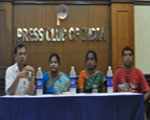 The 19th International AIDS Conference is going to organize in India for the first time in the form of a Global Hub being funded and set up with International AIDS Conference (IAC). Durbar Mahila Samanwaya Committee (DMSC) is hosting this event along with co-hosts Global Network of Sex Workers Project (NSWP) and All India Network of Sex Workers (AINSW) at Kolkata from July 21 to 27.
Explaining about the Global Hub, Ms Bharati Dey, Secretary, DMSC, Convener, Regional Hub, stated that the conference will feature both formal meetings and presentations and a Global Village with cultural and activist events. The idea is to ensure that all important issues that relate to the lives of sex workers and others like intravenous drug users (IDU), Men having Sex with Men (MSM), with some of our lives intersecting with each other get discussed and debated threadbare.
Ms. Aradhana Johri, Additional Secretary, Department of AIDS Control, India wished a grand success for the event and urged the program implementers across the region to"use this alternative event to renew resources to and build partnership with most-at-risk populations (MARPs).
Dr. Smarajit Jana, Chair of the Global Hub, stated that DMSC is very proud to host the event as it signifies the inclusive approach of the national program and its consistent effort to make the community at the centre of the response.
It is noted that the 19th International AIDS Conference (IAC) 2012 will be held at Washington, USA from July 22 to 27. The Indian hub is being organised for the first time to enable all sex workers who submitted abstracts to choose between attending the Conference in Washington or participate in the parallel event in Kolkata.
null
null
LATEST IMAGES
null
null
MORE...
Social bookmark this page
Post comments: