Sunney Leone reaches Mumbai to promote her debut movie 'Jism-2'
Mumbaiq, Sun, 29 Jul 2012
NI Wire
null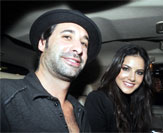 American porn actress Sunny Leone, today reached to Mumbai with her husband Deniel Weber for promoting her Bollywood debut movie 'Jism 2', directed by Pooja Bhatt.
Sunney has played the lead character with co-stars Randeep Hooda and Arunoday Singh.
Promoting her film, Sunney said 'I want that everybody must watch 'Jism-2' and hope that everyone would love it'.
"I was probably just as shocked as everybody else was to see the promos, to see how sexy it was and to see how the movie is coming together, you don't know what you are going to look like until the finished product, so watching the little bits and pieces, I haven't seen the movie either. So I am excited to see it," said Leone.
According to media reports, the film's director, Pooja Bhatt, has said she believes in boldness and not just a slapstick or toilet humour.
Appreciating her co-stars hard work, Leone said she enjoyed being the centre of attraction, but her co-actors have put in a lot of effort in playing their characters in the film, and therefore, they also needed the same attention and appreciation.
"I played Izna in the movie, a truly complex character trying to struggle with her past and present life. Her past is Randeep (Randeep Hooda) and her future is possibly Arun (Arunoday Singh). So, you guys will love to see what happens," said Leone.
The film is a sequel to the 2003 super hit film, Jism that featured Bipasha Basu and John Abraham.
The album of the film has soulful tracks composed by Arko Pravo Mukherjee, Mithoon and the Pakistani band Rushk.
The movie will hit the silver screens on August 3.
--With ANI Inputs--
null
null
LATEST IMAGES
null
null
MORE...
Social bookmark this page
Post comments: