Interstate Police chiefs meetings held for better policing in NCR
New Delhi, Sat, 28 Jul 2012
NI Wire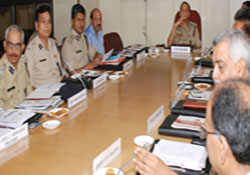 An interstate coordination meeting aimed at strengthening cooperation and coordination in order to address various issues related to policing in NCR was held under the chairmanship of CP Delhi. Senior officers of Delhi Police and their counterparts from Haryana, U.P., Punjab, Uttrakhand and Rajasthan attended the meeting.
Commissioner of Police of Delhi stressed on increasing Police presence, intensive checking at vulnerable points, tenant verification, guest house checking and sensitization of cyber café owners, second-hand car dealers, transporters, property dealers, cycle sellers, chemical dealers and STD/ISTD PCO booth owners in order to strengthen the counter terrorism measures.
The CP stressed also on the regular updation of information on Zonal Integrated Police Network (ZIPNET) regarding crime and criminal for sharing of information on real time basis. The meeting ended with a resolution to have more coordinated approach in policing in order to provide a more secure environment to citizens of Delhi and neighboring areas.
The objective of the meeting was sharing of terror related intelligence and inputs about various extremist outfits their designs in view of forthcoming Independence Day. Information on high profile interstate criminal and their modus operandi was exchanged.
A compendium containing profiles of residents of District Mewat, Haryana who were found indulging in criminal activities in Delhi was circulated to the participants in this regard. Surveillance of interstate criminal, repeat offenders and gangs involved in heinous offence was emphasized. To increase scrutiny at borders check posts besides putting strong pickets at border points was also stressed upon.
It was decided to educate Transporters to install GPS System for safety and security of their vehicles and goods. Issues of human trafficking, missing children and proliferation of fake Indian currency note (FICN) and smuggling of Arms were deliberated upon for necessary preventive measures. It was decided that joint action would be taken against the notorious interstate criminals.
LATEST IMAGES

MORE...
Social bookmark this page
Post comments: