UPSC Civil Services Prelims (Pre) PT result 2012 declared: Check results
New Delhi, Sat, 28 Jul 2012
NI Wire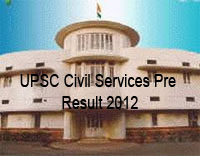 UPSC civil services prelims (Pre) PT result 2012 has been declared. The results are available on the UPSC website http://www.upsc.gov.in/
Click here to check UPSC results
The declaration of the results has ended the wait of lakh of students who had written the exam conducted on 20 may 2012. The successful candidates of UPSC civil services (prel.) now appear for the mains examination which will be conducted in the months to come.
As UPSC civil services preliminary examination is a gateway to mains examination any failure at this stage could spoil the chances of becoming an IAS officer or a class I officer at any stage.
With the announcement of UPSC Civil services Prel. Examination results, the candidates will brace for second stage of examination.
Newstrackindia.com congratulates the successful candidates of UPSC civil Services Pre Examination 2012 results.
LATEST IMAGES

MORE...
Social bookmark this page
Post comments:

raj ojha
January 26, 2013 at 9:59 AM

kokani bhaidas chamu
December 18, 2012 at 9:20 PM

Ramadevi
September 7, 2012 at 8:36 PM

arathy udayakumar
September 5, 2012 at 7:51 PM

DALIM SHAIKH
August 26, 2012 at 7:45 PM

DALIM SHAIKH
August 26, 2012 at 7:37 PM

Amit Priyadarshi
August 26, 2012 at 3:14 PM

david baruah
August 24, 2012 at 2:26 PM

prasan kumar pradhan
August 24, 2012 at 10:11 AM

prasan kumar pradhan
August 24, 2012 at 10:03 AM

RANDHIR KUMAR
August 16, 2012 at 9:29 PM

jeevan kaluram vashkale
August 11, 2012 at 5:43 PM

puja kumari
July 30, 2012 at 1:41 PM

puja kumari
July 30, 2012 at 1:39 PM

puja kumari
July 30, 2012 at 1:38 PM

puja kumari
July 30, 2012 at 1:20 PM

puja kumari
July 30, 2012 at 1:14 PM

puja kumari
July 30, 2012 at 11:15 AM

puja kumari
July 30, 2012 at 11:13 AM

puja kumari
July 30, 2012 at 11:11 AM

vishram horo
July 29, 2012 at 7:43 PM

SURESHB
July 29, 2012 at 5:56 PM

shikha chaurasiya
July 29, 2012 at 12:39 PM