Night shifts up heart attack risk
New Delhi, Sat, 28 Jul 2012
NI Wire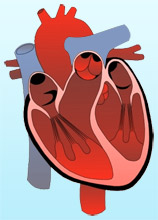 Those working in night Shift should get aware as night shift can dramatically increase the risk of heart attacks and strokes, say researchers.
The study conducted on two million people found that shift workers are almost 25 percent more vulnerable to suffer from heart attack, says a Daily Mail report.
Night shift workers have highest risk of heart attack with 41 percent, a study published on the British Medical Journal website bmj.com reveals.
People working in shifts also develop a large number of unhealthy behaviors that includes consuming junk food, sleeping badly and not exercising, that have a bearing on heart problems.
The researchers took this thing into account - and the excess risks remained.
This study is biggest analysis of shift work and possibility of vascular problems that includes heart attacks, strokes and angina.
For a very long time Shift work is associated with disruption of the body clock and it is also linked with high blood pressure, high cholesterol and diabetes. But ifs impact on cardiovascular health was not clear.
Data from 2,011,935 people was analyzed by a team of international researchers to find out whether shift work was linked to major vascular events, the newspaper reports.
--with inputs from IANS
LATEST IMAGES

MORE...
Social bookmark this page
Post comments: