Kya Super Kool Hai Hum Movie Review, Only if you can handle EXTRA Adult Jokes
New Delhi, Fri, 27 Jul 2012
NI Wire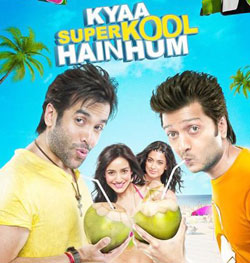 Directed by: Sachin Yardi
Story by: Sachin Yardi
Produced by: Ekta Kapoor, Shobha Kapoor
Cast of Kya Super Kool Hai Hum: Tusshar Kapoor as Adi, Ritesh Deshmukh as Sid, Neha Sharma as Simran, Sarah Jane Dias as Anu, Anupam Kher as Anu's father, Chunky Pandey as Baba 3G
"The plain USP of Kya Super Kool Hai Hum is Adult jokes and more adult jokes. Even the pug name is Suckru. So, if you can handle and watch a film STUFFED with adult jokes then Kya Super Kool Hai Hum will tickle you till your stomach pain."
Review of Kya Super Kool Hai Hum:
Adi and Sid are two brothers. Adi is a struggling actor, who dreams of making a grand debut in Bollywood but has to act in teleshopping ads for nread and butter. Sid is a DJ (read: hard 'Dicks' Jockey) who has to work in Gujarati-gone-wild parties and living off his pug, Suckru.
Adi goes to an astrologer who predicts that his fortune will change when Adi will meet his love, whose name starts with 'S'.
And he meets Simran. Within few days he propose to her for marriage. This freaks Simran out and she says she is a lesbian.
Anu on the other hand is a model. Sid gets a chance to DJ in a fashion show. His disc gets stuck that distracts Anu who trips on her gown and becomes a wardrobe malfunction sensation.
Sid comes to know that Adi has given Simran the diamond that was for Suckru, his pug. So they decide to bring it back and follow Simran to Goa.
Anupam Kher is Anus' father and is hoodwinked by Baba 3G.
Simran and Anu are good friends and are in Goa together. Here story gets some twist, a little of emotional drama and all.
As the trailer of the film has shown us, it is jam packed with vulgar and double-meaning scenes and dialogues. So if you are ready for sex based comedy and naughtiness then go and watch the film in your nearest theatre.
Kya Super Kool Hai Hum has been given an A certificate, so only adult audiences are allowed in theatres.
Kya Super Kool Hai Hum trailer
Hum Toh Hain Cappuccino Song
Shirt Da Button Song
Dil Garden Garden Song
null
null
LATEST IMAGES
null
null
MORE...
Social bookmark this page
Post comments:

Shruti
August 7, 2012 at 11:36 AM