Thinkway Toys joins hands with My Baby Excels to launch Dark Knight toy line in India
New Delhi, Thu, 26 Jul 2012
NI Wire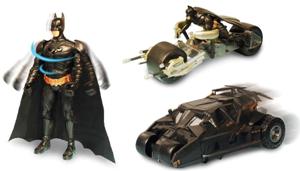 Leading toy company, Thinkway Toys has joined hands with My Baby Excels (MBE), a leading toy brand in India to launch the Darknight Rises toy line in India.
Thinkway Toys is one of the global leaders in designing and creating high quality innovative animatronics products across the world and now keeping in mind the huge success of Christopher Nolan?s "Darknight Rises" with a total earning of over 160 million worldwide, MBE along with Thinkway Toys has launched the Dark Knight toy line in India.
MBE is been well known for its international best sellers like LeapFrog, Disney, Meccano, Warner Bros, Fisher Price, Animal Planet, WOW, BEEBOP, Angry Birds, WowWee, Playmobil and DreamWorks in India.
Says Mustafa Kapasi, COO, MBE, "The Batman toy merchandise is expected to bring 8-10 crores of revenue over the weeks; which is around 15-20% of the movie merchandising market. The range includes a wide assortment of innovative action figures and stunt vehicles that features life like action and infrared control capabilities. The toy range includes Batman action figures, Bat utilities, Bat mobile and many more," said Mustafa Kapasi, COO, MBE.
The toys will be enabled with infrared remote control system and pre programmed keys for special stunts and tricks. The toys also features voice recognition, 360 degree flips, Pre recorded dialogues and much more. The toys will be available for sale in leading stores across the country.
Incorporated in 1984, Thinkway Toys is a globally recognised toy company and pioneer in designing and developing in-house products sold through retailers and distributors worldwide. Thinkway has a spread of over 48 countries around the world.
MBE is a premium toy brand holding licenses for LeapFrog, Playmobil, Meccano, WowWee, WOW Toys, Animal Planet, BEEBOP, Thinkway Toys, Warner Bros. Plush, DreamWorks Plush, Angry Birds Toys and Plush,Disney Plush, Disney Baby (Infant Feeding and Weaning Category), Fisher Price (Infant Feeding and Weaning Category).
LATEST IMAGES

MORE...
Social bookmark this page
Post comments: