World Bank new chief says, eradication of poverty is main target
London, Thu, 26 Jul 2012
NI Wire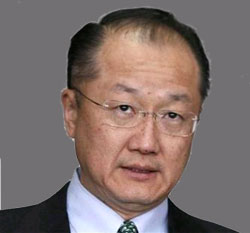 Eradication of poverty from the globe by fixing goals and targets is the top priority for the World Bank's newly elected president Jim Yong Kim. He has stressed about his commitment to ending absolute poverty, which threatens survival and makes progress impossible for the 1.3 billion people living on less than 1.25 dollars a day.
Kim who is the 12th president of the World Bank said, "I want to eradicate poverty. I think that there's a tremendous passion for that inside the World Bank."
"The evidence suggests that you've got to do a lot of good, good things in unison, to be able to make that happen. The private sector has to grow, you have to have social protection mechanisms, and you have to have a functioning health and education system," he added.
The Korean based American, Kim who is not only the first doctor, scientist and an anthropologist to be World Bank president, but also he is the first with development experience who is all set for a clear, simple goal in the eradication of absolute poverty.
It is noted that Kim was previously headed the Ivy League Dartmouth College, is best known for his stint at the World Health Organization (WHO), where he challenged the system to move faster in making AIDS drugs available to people with HIV in the developing world, who were dying in large numbers.
He believed that he could take his effort in eradicating the poverty in same way as he had set the target of three million people being on treatment by 2005. However the target was not achieved on time, it did focus minds and rapidly speed up the pace of the rollout including setting up of clinics and training healthcare staff.
Kim said, "The scientific evidence strongly suggests that it has to be green, you have to do it in a way that is sustainable both for the environment and financially. All the great themes that we've been dealing with here have to come together to eradicate poverty from the face of the Earth."
(With inputs from ANI)
LATEST IMAGES

MORE...
Social bookmark this page
Post comments: