Anna Hazare to fast from July 29
New Delhi, Tue, 24 Jul 2012
NI Wire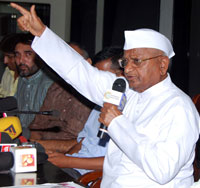 Anna Hazare will join with his team and start fast on July 29
Anna Hazare has reiterated that he will undertake a fast from 29 July at Jantar-Mantar to carry on the anti corruption move. He justified his decision that the main goal of fasting is to bring an effective anti graft bill so that trace of corruption can be vanished from our society.
Addressing to media here he said that the fast will be continued from 25 of July at Jantar-Mantar and Manish Sisodia, Arvind Kejriwal and Gopal Krishnana will be start. He will be on the dais but join the fast from 29 of July.
He said that his team will begin the fast from tomorrow as the government does not want to check corruption.
It is noted that Anna has announced earlier that he will not take part in the fast due to some health reason. However in a latest move, he decided to join the fast and will carry on fast from 29 July and his team members will begin the fast from tomorrow.
LATEST IMAGES

MORE...
Social bookmark this page
Post comments: