Six million foreign tourists visited Spain
New Delhi, Tue, 24 Jul 2012
NI Wire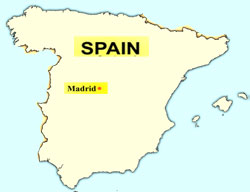 Around 6 million foreign tourists visited Spain in June. This tourists influx is 4.7 percent more than the tourist arrivals during the same month last year.
The Ministry of Industry, Energy and Tourism on Monday released these figures based on based on the survey of tourist movements across borders.
The first half of 2012 witnessed around 25.1 million international tourist arrivals which is 2.9 percent more than the tourist arrival in same period in 2011, thanks mainly to the growth of the German market by 5.7 percent, or 4.16 million.
The Balearic Islands topped the list of most preferred destination for international tourists in June with an increase of 5 percent to 1.58 million. A large share of these tourists came from Britain and the Nordic countries.
Catalonia lost Spain's No. 1 tourist destination and slipped to second position despite 10.8 percent growth in tourist arrivals. .
The southern region of Andalusia experienced a fall-off of 4.6 percent; the Canary Islands a growth of 4.8 percent and the eastern region of Valencia registered an increase of3.9 percent during June.
Madrid experienced greatest growth in percentage arrivals with 17.4 percent more foreign visitors that includes travelers from Italy and the US adding to the growth of the visitors.
--with inputs from IANS/EFE
LATEST IMAGES

MORE...
Social bookmark this page
Post comments: