Digvijay, Anselm and Ishan became Jaipur's 'Airtel Rising Stars'
New Delhi, Mon, 23 Jul 2012
NI Wire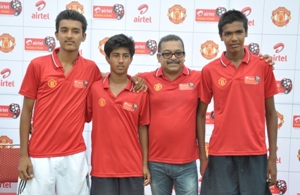 Digvijay Singh from St.Anselm's, Mansrovar, Ishan Rozario from St. Xavier's School and Shubham Sharma from St.Anselm's, Ajmer became the 'Airtel Rising Stars' of Jaipur by getting the first three positions in the 'Airtel Rising Stars' talent hunt that concluded at the city's St. Xavier's School Football Ground.
The players were purely selected on criteria mentioned in the Manchester United Scouting Guidelines.
Gajraj Singh from Mayoor Chopasni School, Jodhpur was selected among all the goalkeepers participating the camp and will join other four goalkeepers who were selected from Delhi, Chandigarh and Lucknow for next level trials for goalkeepers.
The players were adjudged by highly experienced and watchful eyes of the coaches on different parameters like performance, physical and mental strengths, expertise in position, and technical acumen. Digvijay Singh, Ishan Rozario and Shubham Sharma impressed the coaches with their skills and were selected. The three footballers from Jaipur will join players from 16 other centres to participate in the six-day final selection trial, that is to take place in Bangalore this September.
Airtel CEO Mr. Sudipto Chowdhury congratulated the chosen boys from Jaipur and said: ?With the expertise of Procam International, Airtel Rising Stars offers talented young players across India a phenomenal chance to participate and enjoy football in a structured and well run format. It was incredible to see hundreds of young aspirants playing their best game and we were pleased to find these three exceptionally talented players in Jaipur.
?Our best wishes are with these players and all others selected from across the country and hope they go on to achieve their ultimate dreams.?
However, all the players who made into the the squad of 1230 selected players and could not make to the top three will get another chance next year to make their 'Airtel Rising Stars' dream come true. They will also receive Manchester United certificates, signed by none other than Sir Alex Fergusson.
Launched in association with one of the World's soccer club Manchester United, 'Airtel Rising Stars' is a rigorous training program that will cover 16 cities across India to choose 12 talented and best footballers who will get the chance-of-a-lifetime to attend a week long training camp with Manchester United in Old Trafford, England.
LATEST IMAGES

MORE...
Social bookmark this page
Post comments: